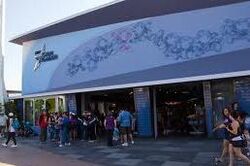 The Star Trader is a store in Tomorrowland at Disneyland and Disneyland Paris. It originally opened in 1967 as the Character Shop. Its retheming to the Star Trader coincided with the opening of Star Tours in 1987. Star Tours exits into the half of the store which largely sells Star Wars merchandise. In 2011, for the remodeling of Star Tours, the X-Wing Fighter that hung in the store in 1987 that had since moved to the Starcade returned to the store. Additional effects such as lines of aliens in shadow waiting at the Star Tours terminal were added to continue the Star Tours theme into the shop.
In Disneyland Paris, it is located at Discoveryland. It is near the exit of Star Tours, under the name "Star Traders".
Gallery
Ad blocker interference detected!
Wikia is a free-to-use site that makes money from advertising. We have a modified experience for viewers using ad blockers

Wikia is not accessible if you've made further modifications. Remove the custom ad blocker rule(s) and the page will load as expected.