Star Tours: The Adventures Continue
Comments

0
19,137pages on
this wiki
"It has been a long time since the end of the Clone Wars, and the evil Sith Lord Darth Vader continues to tighten his grip on the Empire as the galaxy moves closer to the brink of a great civil war.
A new intergalactic spaceline, Star Tours, seeks to preserve unrestricted intergalactic travel in this age of tyranny. Freedom fighter Captain Raymus Antilles has assigned two droids, C-3PO and R2-D2, to help launch the spaceline, fueling Imperial suspicion that Star Tours is part of the Rebel Alliance.
Star Tours is about to open its first intergalactic space terminal in the Earth System as rumors of a fearsome weapon of mass destruction dash all hope for peace and freedom in the galaxy..."
―Opening Crawl, Opening Day Ceremony, May 20, 2011.
Star Tours: The Adventures Continue

Disneyland
Land
Tomorrowland
Designer
Walt Disney Imagineering
Attraction type
Motion simulator
Theme
Star Wars
Opening date
June 3, 2011
Hosted by
C-3PO (voice of Anthony Daniels)
Vehicle names
StarSpeeder 1000
Vehicle capacity
40
Ride duration
4:30 minutes
Replaced
Star Tours
Star Tours: The Adventures Continue

Tokyo Disneyland
Land
Tomorrowland
Designer
Walt Disney Imagineering
Attraction type
Motion simulator
Theme
Star Wars
Opening date
May 7, 2013
Hosted by
C-3PO
Vehicle names
StarSpeeder 1000
Vehicle capacity
40
Ride duration
4:30 minutes
Replaced
Star Tours
Star Tours: The Adventures Continue
 (sometimes labeled as
Star Tours 3-D
) is a 3-D motion simulator attraction based on the 
Star Wars
 film series and is the prequel to it's predecessor, 
Star Tours
.
Star Tours: The Adventures Continue
 is appearing at
Disney's Hollywood Studios
and
Disneyland
, replacing the original version, which closed on July 27,
2010
. The Disney's Hollywood Studios version opened May 23,
2011
, with the Disneyland version opening a few weeks later on
June 3
. This updated version features 3-D technology, multiple destinations, and will be set in between the timelines of
Revenge of the Sith
and
A New Hope
.
Tokyo Disneyland
's version opened on May 7,
2013
.
Development
Star Tours was always intended to receive occasional updates, though various factors would serve to delay the project. The initial development proper on a Star Tours II began in 1997 when George Lucas invited Imagineer Tom Fitzgerald to Skywalker Ranch and showed him the Podrace sequence of the in-development Episode I: The Phantom Menace, suggesting it would be perfect material for a new Star Tours attraction. Imagineers developed an attraction concept with a podrace as it's centerpiece, but held off on it to wait and see what the other prequels could offer. With a branching storyline in mind, Fitzgerald went to Fox Studios Australia in 2003 during the filming of Revenge of the Sith to pitch the multi-branching storyline to George, quickly getting his approval to move forward. Work proper finally began in 2007 with Fitzgerald and other Imagineers regularly visiting Skywalker Ranch to show them their progress.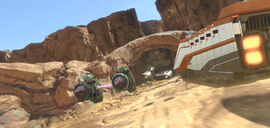 At the inaugural D23 Expo in
Anaheim, California
, on September 12,
2009
, Jay Rasulo and Darth Vader announced that Disneyland's Star Tours attraction would be closing in October
2010
to make way for an updated version, which opened in
2011
. Tatooine was the first of the new destinations revealed, showing a sample of the Podracing sequence.
Premise
Blast off on a thrilling tour of the Star Wars universe aboard a Starspeeder 1000. Voyage to amazing alien worlds — like Tatooine, Naboo or Hoth — and come face to face with the likes of Yoda, Princess Leia or even Darth Vader.
Featuring state-of-the-art technology—including a flight simulator, digital 3D video, Audio-Animatronics characters and "in cockpit" special effects and music—Star Tours: The Adventure Continues realistically immerses you in the Star Wars mythology for an unforgettable intergalactic adventure.
Hurry along the forest moon of Endor—home to rustic Ewok cottages and a towering AT-AT—and make your way through a sleek Rebel bunker to a bustling Star Tours spaceport. Inside, behold R2-D2 and C-3PO tinkering away on a Starspeeder 1000—your cosmic transportation vehicle—amid a throng of projection screens, glowing scanners and blinking droids.
Weave your way up a ramp past customs and baggage screening before picking up a pair of 3D flight glasses and continuing to your departure gate. Following instructions from an overhead monitor, board your interstellar space vehicle for a journey through the darkest reaches of the solar system.
As you prepare for lift-off, a series of mishaps unwittingly causes your starship to launch and C-3PO to take control. Suddenly, your space cruiser is intercepted by Empire forces. Fearing capture, C-3PO pilots your ship on an unpredictable flight that will rocket you to the farthest reaches of the galaxy and back!
Hold on tight as you navigate jagged desert rocks in a dusty pod race on Tatooine. Maneuver around menacing AT-ATs during a whirlwind battle on the icy planet of Hoth. Hyperspace to the watery planet of Naboo and avoid the clutches of a giant fish or retreat inside the dreaded Death Star to escape Darth Vader before doing battle with Boba Fett.
Will your starspeeder elude capture and safely transport you—and the rebel spy—safely back to the Alliance base? May the Force be with you.
Attraction
The attraction features 54 different ride experiences, including several different planets from the Star Wars universe such as Coruscant and Tatooine. With The Adventures Continue serving as a prequel to the original Star Tours, guests will board StarSpeeder 1000 spacecraft simulators, forerunners to the StarSpeeder 3000 simulators found in the original attraction. With the attraction set in an earlier timeframe than its predecessor, this earlier Star Tours travel agency utilizes AC-series pilot droids, and therefore, RX-series pilot droid Captain Rex will not appear as the ship's pilot, (instead appearing in the queue as a defective droid). Through a series of mistakes, though, the AC-series pilot droid will not appear as the ship's pilot either, as the aerophobic C-3PO finds himself at the helm of the StarSpeeder 1000. Characters set to appear include, but are not limited to: C-3PO, R2-D2, Darth Vader, Boba Fett, Yoda, Princess Leia, Chewbacca, and new characters such as AC-38, Aly San San, and Imperial skytroopers. Endor does not appear to be one of the destinations though.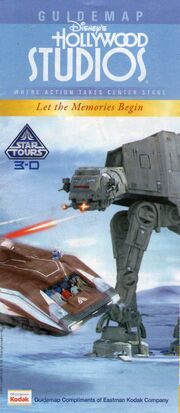 Cast