The Stabbington Brothers
Comments

4
19,103pages on
this wiki
The Stabbington Brothers
Background information
Feature films
Tangled, Tangled Ever After
Television programs
Video games
Park attractions
Portrayed by
Portrayed by
Animators
Voice
Ron Perlman, John DiMaggio
Performance model
Designer
Inspiration
Honors and awards
Character information
Full name
Other names
Personality
Rude, vengeful, arrogant, greedy
Appearance
Identical Twins; One has mutton chops, wears green, and wields a sword; while the other wears all black, has an eye-patch, and wields a dagger
Birthday
Occupation
Thieves, Flynn's partners (formerly), Mother Gothel's minions
Affiliations
Bad, maybe neutral in the sequel.
Goal
To destroy Flynn Rider
Home
Relatives
Pets
Allies
Mother Gothel (formerly), Rapunzel, Flynn Rider, Pascal, Maximus, Captain of the Guards, The King, The Queen, Hook Hand, Big Nose, Vladimir, Attila, Shorty, Ulf, Gunther, Tor, Greno, other Pub Thugs.
Minions
Enemies
Flynn Rider (formerly), Rapunzel (formerly), Pascal (formerly), Maximus (formerly), Hook Hand (formerly), Big Nose (formerly), Vladimir (formerly), Attila (formerly), Shorty (formerly), Ulf (formerly), Gunther (formerly), Tor (formerly), Greno (formerly), other Pub Thugs (formerly), Captain of the Guard (formerly), The King (formerly), The Queen (formerly), Mother Gothel (at the climax of the movie).
Likes
Jewels, riches
Dislikes
Traitors
Powers and abilities
Weapons
Knives, daggers
Fate
Watch in joy as Rapunzel and Flynn wed
Quote
"Rider!"
[Source]
The Stabbington Brothers are a pair of villain henchman from Disney's 2010 film Tangled featuring Flynn Rider and Rapunzel. They are former allies of Flynn Rider and now serve Mother Gothel as their act of revenge. They are both voiced by Ron Perlman. John DiMaggio voiced one of the brothers while being questioned by Flynn in a cell block, though this was uncredited.
The Stabbington brothers are first seen with Flynn, heading for the castle to steal a royal crown that belongs to the missing princess. The brothers hoist Flynn down with a rope to retrieve it, but he gives them away. The three obtain it successfully, but the guards rush for them and a chase begins. When the trio reach a dead-end, the brothers will only let Flynn go first if they have that satchel that holds the crown. Although they had the satchel, Flynn betrays them and was able to grab the satchel. Stranded, the brothers are arrested but roam along with the guards as prisoners in chains. While at the Pub Thug where Flynn and his new allies Rapunzel and Pascal are located, the two escape and then try to catch Flynn as he escapes. However, they are overwhelmed by the collapsing river water built up by the dam, which is destroyed in the process where Maximus attempts to apprehend Flynn.
They survive the chaos, exiting the Pub's secret passage. The two stumble upon a woman, Mother Gothel. She strikes a deal with the two and reveals the secret of Rapunzel's hair, which they find more valuable than the crown. After Rapunzel and Flynn enjoy a romantic evening watching the lanterns, Flynn spots the brothers and brings the satchel to them in the hopes that they will leave Rapunzel and him in peace. The brothers however point out to Flynn that they are aware of Rapunzel's hair, and want her instead of the crown. The two knock out Flynn and tie him up to a boat set sail back to the kingdom. The brothers then attempt to capture Rapunzel, but are betrayed by Mother Gothel, who knocks them out from behind; tricking Rapunzel into thinking she was protecting her.
The brothers are last seen in a prison cell as Flynn is being escorted to his execution. Flynn grabs them and demands to know what happened to Rapunzel and how they knew about her hair. They fearfully tell Flynn that an old lady is behind it all.
Other Appearances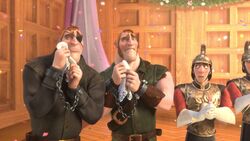 The Stabbington Brothers make a small cameo in Tangled Ever After where Rapunzel and Eugene (Flynn Rider) wed. They are seen at the very end, weeping as Rapunzel and Eugene kiss, showing signs of possible reformation.
The Stabbington Borthers are first seen with Flynn until they have a run in with the palace guards. Later on they escape and meet Mother Gothel who strikes a deal with them.
Gallery
Trivia
External links
[1]
at IMDB (Tangled full cast list)