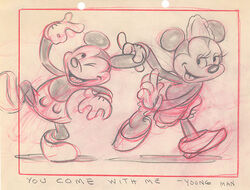 Spring Cleaning is an unproduced animated short that was to have been a return appearance for Bobo the Elephant.
Plot
The short was to be based loosely on a scene from the original comic strip storyline that introduced Bobo. Storyboard sketches for this short can be seen in Mickey Mouse: The Floyd Gottfredson Library - Volume 3: High Noon at Inferno Gulch.
Gallery
Ad blocker interference detected!
Wikia is a free-to-use site that makes money from advertising. We have a modified experience for viewers using ad blockers

Wikia is not accessible if you've made further modifications. Remove the custom ad blocker rule(s) and the page will load as expected.