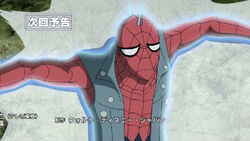 Spider-Punk
is a Marvel Comics character that appears in
Ultimate Spider-Man
, voiced by
Drake Bell
. He is one of the various alternate versions of
Spider-Man
, in his case he is a punk rock singer who got bitten by a radioactive spider, giving him superhuman abilities based on a spider. He decided to use his powers, alongside web-shooters, to fight crime and corruption in his home universe.
Spider-Man
recruited his help to defeat
Wolf Spider
and recover all shards of the Siege Perilous.
He was originally created by Stan Lee, John Buscema and Jim Mooney.
Trivia
In the comics, Spider-Punk is an alternate version of Spider-Man supporting character Hobie Brown, AKA the Prowler.
Ad blocker interference detected!
Wikia is a free-to-use site that makes money from advertising. We have a modified experience for viewers using ad blockers

Wikia is not accessible if you've made further modifications. Remove the custom ad blocker rule(s) and the page will load as expected.