"With great power comes great responsibility."
―Spider-Man
Spider-Man (real name Peter Benjamin Parker) is a fictional superhero from Marvel Comics. Spider-Man made his debut appearance in the Marvel Cinematic Universe as a supporting character in Captain America: Civil War, and will return as the protagonist in his own solo movie Spider-Man: Homecoming. He will reappear in the upcoming 2018 Marvel Studios Avengers: Infinity War film.
He also has his own series in the Marvel Animated Universe starring in Ultimate Spider-Man series and Marvel's Spider-Man and guest stars in Avengers Assemble.
Spider-Man was created by Stan Lee and Steve Ditko.
Background
Physical Appearance
Peter's physical appearance varies from adaptation to adaptation, but more often than not, he is a white teenage boy with a slim, yet muscular physical build, due to the radioactive spider bite. He has short brown hair and hazel eyes (blue in Ultimate Spider-Man and brown when portrayed by actor Tom Holland in the Marvel Cinematic Universe). In Ultimate Spider-Man, his typical civilian outfit consists of a white shirt underneath either his light blue or pink button-down shirt, with blue or brown jeans and black sneakers. His The Avengers: Earth's Mightiest Heroes is similar with light brown jeans and a green shirt over a black T-shirt.
His superhero suit's primary colors are red and blue, with a silhouette of a spider on the chest and the back. The red has a pattern that resembles that of a spider web, with the center of the web being on the topside of his nose. The red and webs only go to the shoulders on the costume. The eyes on the mask are white one-way lenses with a bold black outline.
Powers and Abilities
Powers
Spider Physiology: Peter has extraordinary arachnid powers and capabilities which make him really amazing. Peter possesses the proportionate powers of a spider, granted to him from an irradiated Common House Spider (Achaearanea tepidariorum) which bit Peter that was apparently already mutated from prior exposure to certain frequencies of radiation and received a final, lethal dose during Peter's attendance of an exhibition he was present at. The radioactive, complex mutagenic enzymes in the spider's blood that were transferred at the time of the bite triggered numerous, body-wide mutagenic changes within Peter, granting him superhuman strength, speed, toughened flesh, and numerous, arachnid-like powers.

Superhuman Strength: Peter can approximately lift 10 tons. Peter's strength lets him throw automobiles and most standard heavy objects, he must always pull his punches so he does not unless fighting someone the same power status as him or greater. Otherwise his blows would prove fatal, as Peter has not yet fully grown into adulthood it can be assumed that he will be able to lift 20 tons. Nonetheless, Peter's muscles are stronger and more efficient as a result of the spider's bite. He is shown to be able to easily overpower normal humans, destroy everyday items with one strike such as his alarm clock, shatter the backboard of a basketball hoop in the school gym and doing the same to the front door glass panel at home, pull apart guns, swing at high velocities on a rope or web. His strength is only rivaled by the Lizard; possibly until Peter reaches adulthood, and surpassed only by the Hulk, Thor and Thanos.
Superhuman Jumping: As a result of the spider's bite, Peter can jump much higher than a normal human, easily capable of jumping over one building over a street to the next, and enabling him the ability to jump to a height of several stories in a single jump.
Superhuman Leaping: As a result of the spider's bite, Peter can leap much farther than a normal human, easily capable of leaping from one building over a street to the next, enabling him the ability to leap to several feet in a single leap.
Superhuman Speed: Peter can run and move at speeds that are beyond the physical limits of the finest human athlete, though the exact extent of this speed has yet to be determined. When a car thief tried to take a car, Peter was already in the back. Upon the thief getting out of the car, Peter was already out of the back seat and behind him. He is fast enough to outrun police cars that were chasing him. During his battle with Electro, time appeared to slow down when a police car was about to crush nearby civilians he saved them before the people even realized what happened showing that Peter is so fast he will disappear in a second if someone looks away. He is also slightly faster than the Lizard.
Superhuman Stamina: Peter's advanced musculature produces less fatigue toxins during physical activity than an ordinary human. At his peak, Peter can physically exert himself for several hours before the build up of fatigue toxins in his blood begins to impair him.
Superhuman Durability: Peter's body is physically tougher and more resistant to injury than the body of a normal human. His body is more resistant to impact forces than anything else. He can withstand great impacts, such as falling from a height of several stories or being struck by a super-humanly strong opponent, that would severely injure or kill a normal human with no discomfort. Peter's muscles and flesh are tougher than a normal human. He was capable of sustaining a fall onto a car, breaking the windshield without any injury or discomfort, and survived a few strong electrical blasts from Electro even a stream of electricity point blank in the face.
Superhuman Agility: Peter's agility, balance, and bodily coordination are all enhanced to levels that are beyond the natural physical limits of the finest human athlete. He is 15 times more agile than a regular human. Peter is extraordinarily limber and his tendons and connective tissues are twice as elastic as the average human being's, despite their enhanced strength. He has the combined agility and acrobatic prowess of the most accomplished circus aerialists and acrobats. He can also perform any complicated sequence of gymnastic stunts such as flips, rolls, and springs. He can easily match or top any Olympic record at gymnastics apparatus such as flying rings, climbing ropes, horizontal bars, and trampolines. Due to his incredible strength and flexibility, Peter is extremely acrobatic and is able to preform high jumps, somersaults, flips and the like. He is also slightly more agile than the Lizard.
Regenerative Healing Factor: Peter's metabolism is greater thus allowing him to heal faster than a normal human. He is also more immune to toxins and alcohol and drugs will lose their effects quicker.
Superhuman Equilibrium: Peter possesses the ability to achieve a state of perfect equilibrium in any position imaginable. He seems able to adjust his position by instinct, which enables him to balance himself on virtually any object, no matter how small or narrow. He has developed a unique fighting style that has made full use of his agility, strength, and equilibrium.
Superhuman Reflexes: Peter's reflexes are similarly enhanced and are currently about 40 times greater than those of an ordinary human. In combination with his spider-sense, the speed of his reflexes allows him to dodge almost any attack, even direct gunfire, if he is far enough away.
Superhuman Senses: Peter's senses are heightened, specifically his sight as he no longer needs his glasses after the spider bite.
Spider-Sense: Being his most imprint power, Peter possesses the extraordinary ability to sense when danger is about to come before it does; this helps him counter attack the threat before it happens and helps him get ready for what's coming. This power is incorporated in his fighting style. His body begins to produce more adrenaline after the sense is triggered, an extension of the "fight or flight syndrome". A tingling sensation in Peter's skull warns him of danger, where it is coming from and how to avoid it. The stronger the tingling, the more imminent and threatening the danger is. Depending on the incarnation, it can range from being relatively easy to ignore to causing a sensory overload that does him more harm than good in a battle.
Wall-Crawling: Peter has super strong hairs on his palms and feet that allow him to stick to any surface. This ability appears to be consciously used and is so far limited to Peter's body (especially concentrated in his hands and feet) and another object, with an upper limit of several tons per finger. The full nature of this ability has yet to be established, but it seems that like the comic version of the Spider-Man clone Kaine, he is capable of using this combined with his strength to uproot objects from their place without having to fully use his hands such as when he pulled open the back window of a van that he suspend with his webs to save a boy still stuck in the van and he did with ease.
Abilities
Genius-Level Intellect: Academically gifted, Peter displays an uncanny affinity for science, mathematics, mechanics, biology, and physics. Peter is very intelligent, specifically in chemistry and physics. He is smart enough to perfect his father's webbing formula and to construct working mechanical web-shooters.
Science Major: Peter is a brilliant individual, with exceptional skill in practically every field of science, and is an excellent inventor. He is an accomplished chemist and physicist. He possesses enough competency in this field to invent his trademark web shooters.
Skilled Photographer: Peter is a very skilled photographer.
Master Acrobat: Thanks to his great strength and phenomenal equilibrium, Peter is an excellent athlete, excelling in all gymnastic fields and being able to perform every acrobatic stunt ever performed, including others that can never be performed by even an Olympic acrobat. Due to his superhuman physical abilities, Peter easily surpasses normal acrobats and is able to preform somersaults, flips, spins, cartwheels, etc.
Expert Hand-To-Hand Combatant: Thanks to Peter's amazing superhuman physiology, acrobatic powers and spider sense, he is an excellent hand-to-hand combatant using a fighting style derived from his spider-like powers, he made his own street style that could rival virtually any combatant out of sheer volatility to standard fighting techniques (e.g. webbing, wall crawling, super strength to lift heavy objects, etc.) Using a mixture of his superhuman strength, speed, agility, reflexes, speed, equilibrium, Spider-sense, and web-shooters, Peter is able to utilize an devastating acrobatic fighting style that makes him a formidable opponent and allowed him to easily take down thugs, cops (be it regular officers or SWAT officers) and even the more physically powerful Lizard.
Web-Slinging: Peter uses his web-shooters to travel by swinging on web-lines. Combined with his spider abilities, he can move at amazing speeds throughout the urban chasms of Manhattan. It is unknown how fast, but he seems to be able cover much of the city in a considerable amount of time.
Advanced Skateboarding: In certain adaptations, even before the genetically altered spider bite, Peter is a very skilled skateboarder and skated everywhere he went.
Equipment
Web-Shooters: Peter when he began his career created web-shooters to combo with his persona as Spider-Man. They are able to shoot web fluids at high pressure and speed.

S.H.I.E.L.D.'s Web-Shooters: In his Ultimate Spider-Man incarnation, Peter received new web-shooters from Nick Fury. It is an enhanced version of his own. Unlike his original web shooters, if it is activated, a small target appears, which can be use to aim more properly. It can also store more web fluid in it and reach farther. It can shoot at a higher pressure and speed. The web-shooter has also a camouflage mode. The web-shooters can also be encased in electricity.

Web Fluid: Peter's own invention to come with the web shooters. It is used by him to spin web and sling through the city. Peter can modify the fluid after shooting it for certain situation such as using it as a parachute.
Spider-Signal: A red light emitted from Spider-Man's Utility belt in most media, but in Captain America: Civil War it is emitted in his Web-Shooters by Tony Stark.
Appearances
Spider-Man makes his Marvel Cinematic Universe debut in the movie Captain America: Civil War, played by Tom Holland.
About six months before the events of the film, Peter received incredible arachnid-like powers. Soon after, tragedy struck when Peter lost his Uncle Ben in an event that could have been averted had Peter been using his great powers more responsibly. From that day onward, Peter decided to use his powers to help those in need, making a makeshift superhero costume for himself and dubbing himself "Spider-Man". Afraid of how the people in his life would react to this, he kept his double life as a street-level superhero a secret from the people around him, including the woman who raised him, his Aunt May.
However, Peter was just sloppy enough in maintaining his secret identity that when Tony Stark, otherwise known as Iron Man, did a bit of research, he figured out that it was mild-mannered Queens teenager Peter Parker underneath the mask. At the time, Tony was facing the very real issue of having to fight Steve Rogers, aka Captain America, and hoped to persuade Spider-Man to help him.
Tony Stark travels to the Parker family's apartment, much to May and Peter's shock. Stark convinces May to give him some time alone with the boy, and reveals that he knows about Peter's double life as Spider-Man. Tony explains to Peter that he believes Captain America has gone rogue and needs his help to take him in. Peter complies on the condition that Tony not tell Aunt May about his secret identity.
Tony provides Peter with an upgraded superhero suit and explains that if everything goes according to plan, Peter will simply use his webs to stop the Captain, but will never have to do any fighting. Spider-Man travels with Iron Man, Black Widow, War Machine, Vision, and Black Panther to Leipzig, Germany. They catch up with Captain America, but discover that the Captain has also assembled a team: the Winter Soldier, Falcon, Hawkeye, Ant-Man, and Scarlet Witch. However, Peter is more excited at the chance to be in the company of the Avengers than anything else, let alone have a chance to be one himself.
The two factions of heroes realize that neither side will give in, and are forced to fight one another. Spider-Man is able to hold his own against Falcon and the Winter Soldier, all while babbling excitedly about their abilities and gear, in particular the Winter Soldier's metal arm and Falcon's wings. Later in the fight he goes up against Captain America himself. The inexperienced Peter proves no match for Captain America, but he is impressed by the young hero. He comments that Spider-Man has a good heart, and smiles when he learns that they are both from New York - in Spider-Man's case, Queens, and for the Captain, Brooklyn.
Peter later helps to turn the tide of the fight in favor of Iron Man's side after Ant-Man turns himself into Giant-Man and gives them a run for their money. In a maneuver inspired by "that really old movie The Empire Strikes Back", Spider-Man spins his webs around Giant-Man's legs while Iron Man and War Machine fly over and knock him down. While Peter's plan succeeds, he is injured by Giant-Man in the process. Iron Man sends him home soon after.
Upon returning home, May asks her nephew how he got his bruises. Peter opts for a half-truth, telling her he was in a fight against "Steve from Brooklyn and his huge friend." Once May exits, Peter plays around with his upgraded web shooters, discovering an interesting feature: a Spider-Signal.
Marvel Studios recently announced that they have settled their rights dispute with Columbia Pictures and have partnered with Columbia to produce a Spider-Man movie reboot set in the Marvel Cinematic Universe that will be released on July 7, 2017.[1] Tom Holland will reprise his role as Spider-Man.
Marvel Animated Universe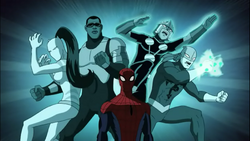 Peter Parker had a normal life, meeting Mary Jane, Harry and Flash at some point of time. His parents died when he was young. This was dramatically changed after being bitten by a radio-active spider, which gave him his spider-like powers. At first, Peter used his powers for personal gain as a wrestler to win prize money. His Uncle Ben noticed Peter changing and tried to talk to him, telling him, "With great power comes great responsibility". Ben would later become the victim of a crook Peter let escape, it was here that Peter finally realized that he had the power to stop that criminal and he did not; he lost his uncle because he did not do what was right. With that guilt and Ben's words driving him, Peter turned to becoming the Superhero Spider-Man using his powers to fight for justice and foil crime.
After one year as a vigilante Spider-Man stops the Trapster from robbing a money car. Fury appears behind him offering him a membership to S.H.I.E.L.D. but rejects the offer and leaves. He met the Frightful Four (sans Trapster) and fought them. He escaped by going into the ventilation shaft. Harry got injured in the fight and Peter feels responsible for it. He then decided to join S.H.I.E.L.D. and got taken in by Fury. Paired with a group of teenage superheroes consisting of Power Man, Iron Fist, White Tiger, and Nova, Spider-Man fights off an array of criminals and other threats with the S.H.I.E.L.D. organization.
Throughout the course of the series, Spider-Man has faced a myriad of foes, including Doctor Octopus, Taskmaster, Green Goblin, and even Venom (a being engineered from his own DNA), as well as several heroes like the Avengers. During this time, Spider-Man's fights alongside his team allows them to grow closer together and mature into stronger heroes, eventually expanding his team with other young superheroes.
Spider-Man appears in the Avengers Assemble series, making various appearances and a few cameos in the show.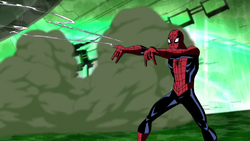 Peter Parker first appears working at the Daily Bugle when he was assigned by J. Jonah Jameson to take pictures as Betty Brant interviewed Captain America, who was facing public distrust at the time due to being replaced by a Skull beforehand. They were attacked by the Serpent Society, whom were trying to free transported prisoner Madame Hydra. As Captain America was getting beaten by the villains, Peter changed into his Spider-Man outfit and swung in to help him. This caused the two to plummet into a tunnel underneath New York. They kept Madame Hydra in captivity as they were attacked once again by the Serpent Society. Despite being outnumbered, the two managed to beat them and were found by Iron Man and the other Avengers present at the time.
After the battle, Spider-Man was upset to find that Jameson had, once again, made him out to be a menace, with the Daily Bugle front page reading: "Captain America Saves NY from Spider-Man and the Serpent Society". After he bade Captain America farewell, Spider-Man mentioned that he was going to web J. Jonah's mouth shut for that.
Sometime later, after a battle with Kang the Conqueror lead to the timeline being unraveled and the Avengers disappearing, Iron Man ordered JARVIS to activate the New Avengers protocol - a program that would select a new team of Avengers formed from the allies of the originals, meant to take up the team's role if they were ever killed. While Spider-Man swung throughout the city fighting through enemies from various eras, he met up with Wolverine who saved him from a pack of raptors as they were on their way to Stark Tower they have Iron Fist, Luke Cage, Thing and War Machine to help.
Stark's pre-recorded message told both of them that they needed to take up the job as New Avengers. While these New Avengers were, at first, helpless to stop Kang, Spider-Man was able to form a plan that allowed him to stop Kang's plan and return the original Avengers to the timeline, saving the world in the process. As a reward for his hard work and dedicated service, the team decided to make Spider-Man an honorary reserve member of the Avengers.
Spider-Man is summoned with the rest of Earth's heroes to the battle against Galactus and his heralds. He along with War Machine, Quake, Captain America, and Iron Fist are sent to deal with Terrax and destroy his tower. When Galactus was about to devour the planet, he thought it was all over. He was amazed when the Avengers created a Negative Zone portal and sent Galactus through it. After the crisis had ended, Spider-Man was seen left the area along with the other heroes.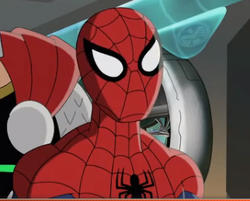 Spider-Man made an appearance in the hour-long special in 2013. He first appears web-swinging his way to a battle in New York City between his friends Iron Man, Hulk, and Thor and the group of villains consisting of Red Skull, MODOK, Whiplash, and his nemesis Venom. He began aiding his allies, but their powers are drained from Heinz Doofenshmirtz's Inator. Spider-Man is the first to discover this after he finds out he can no longer crawl on walls. After the team contacts S.H.I.E.L.D., they discover that the beam that drained their powers originated from a satellite made in Danville, specifically from two boys Phineas and Ferb.
With the rest of the team, Spider-Man travels to Danville to seek the boys' help in restoring their powers, as well as meeting an avid fan of them, Candace. The boys take them to their base of operations, S.H.E.D., and help create temporary powers for the team to use, however Candace accidentally messes up with the machine, causing it to give the team each power to the wrong owner. As a result, Spider-Man earns Hulk's strength. The heroes then see a breaking news story about the attack at the Googolplex Mall and decide they need to be there. Phineas and Ferb help out in the Beak suit and transport all the heroes there.
However, when they get to the mall, the heroes' inexperience of using each other's powers causes them to easily fall at the hands of the villains. As Red Skull proclaims the heroes' defeat, Perry enters in a superhero suit and rescues the heroes. Afterwards, Phineas has everyone regroup in S.H.E.D. and come up with a Plan B. In S.H.E.D., where Buford, Baljeet, and Candace are rebuilding the power-duplicating machine, where the heroes' powers had since faded since they do not match the host's structure for the respective powers. Fortunately, the machine's first aspect, recreating Hulk's powers, is almost finished; however, Candace prematurely plugs it in, and Baljeet is zapped, turning into Hulkjeet and smashes the machine, charging out of S.H.E.D.
The team then witnesses on TV that Red Skull now has a Power-Drain-inator he has threatened on the people unless they come and stop him. Despite being powerless, the heroes agree to fight anyway, with Thor explaining that "Being a hero isn't the armor you wear, but the metal in your spirit and the steel in your resolve." Spider-Man promptly ruins the moment with quips.
Spider-Man along with Hulk, Thor and Iron Man then travel downtown via bus to confront the villains while the villains await the heroes' arrival. When they do show up, they are almost immediately trapped.
Suddenly, Hulkjeet shows up along with The Beak and Perry, while Doofenshmirtz begins firing waffles from his Waffle-inator from the D.E.I. balcony. Spider-Man takes advantage of the distraction to snatch the mundanium finite core from the -inator, and the villains begin chasing the heroes in order to retrieve the core. The heroes quickly gain momentum while keeping the core away.
He then passes the reactor core off to his allies attempting to keep the core away from the villains, causing the core's orbs to break off. However, the orbs are ultimately recovered by the villains who rebuild the core and activate the Power-Drain-inator. But at that moment, the boys' space station lands on the machine, destroying it. Candace and Isabella depart from the station to return the stolen powers, which were revealed to be in the data collection tank, giving the heroes their powers back. As the villains emerge from under the station, the heroes fight against them and emerge victorious.
Once the battle is over, S.H.I.E.L.D. arrives and arrests the villains. As the heroes depart, Spider-Man says that the juice box will be his treat for Phineas next time. The helicarrier departs as the heroes wave goodbye.
Video games
Spider-Man appears in the Disney INFINITY: 2.0 Edition Ultimate Spider-Man Play Set by protecting New York from Green Goblin and Venom's symbiote forces. He is also playable in the Marvel Battlegrounds Play Set for 3.0. A version of him in his black suit is also playable, being available as both a figure and Costume Change Power Disc.
Marvel vs. Capcom series
Spider-Man appears as a playable character in the Capcom fighting games Marvel Super Heroes, Marvel Super Heroes vs. Street Fighter, Marvel vs. Capcom: Clash of Super Heroes, Marvel vs. Capcom 2: New Age of Heroes, and Marvel vs. Capcom 3: Fate of Two Worlds.
Spider-Man currently makes meet-n-greet appearances at the Walt Disney Studios Park in Disneyland Paris, which began at some point in 2014. The news about Spider-Man doing meet-n-greets was confirmed by Andrew Garfield, during The Amazing Spider-Man 2 premiere in France.
The meetable version of Spider-Man is the Amazing Spider-Man version, and the front & back spider symbol in Ultimate Spider-Man version.
He also began doing meet-and-greets at Super Hero HQ in the Tomorrowland Expo Center starting on November 16, 2015 in the Tomorrowland section of Disneyland in California. He is currently doing a meet-n-greets in Disney California Adventure at Hollywood Land along with Captain America.
Gallery
Trivia
Spider-Man first appeared in the Marvel Comic Amazing Fantasy #15 in 1962 created by Stan Lee and Steve Ditko, and has been a superhero household name ever since.
Ultimate Spider-Man is Spidey's 9th animated incarnation of Peter Parker as Spider-Man. Previous versions include Spider-Man (1967), Spider-Woman, Spider-Man (1981), Spider-Man and His Amazing Friends, Spider-Man: The Animated Series, Spider-Man Unlimited, Spider-Man: The New Animated Series and The Spectacular Spider-Man.
The Spider-Man of Ultimate Spider-Man and Earth's Mightiest Heroes was originally voiced by Josh Keaton, who was his voice actor on The Spectacular Spider-Man. For Ultimate Spider-Man, Drake Bell overdubbed Josh Keaton's role after Josh had already recorded all his lines.
In the comics and many previous incarnations, Peter Parker works as a freelance photographer at the Daily Bugle.
Ultimate Spider-Man is among the only incarnations of Peter Parker in which he has blue eyes as opposed to hazel or brown.
Spider-Man's film rights are owned by Sony Pictures, who have done two series of Spider-Man films, the first three were directed by Sam Raimi and starred Tobey Maguire, and then it was rebooted and the next two were directed by Marc Webb and starred Andrew Garfield. After the performance of The Amazing Spider-Man 2 (which received mixed reviews), Marvel announced that they are collaborating with Sony to bring Spider-Man into the Marvel Cinematic Universe with a new actor in the costume, eventually revealed to be Tom Holland.
Spider-Man was referenced to in the Marvel Cinematic Universe for the first time in Ant-Man, in which a "webslinger" was mentioned.
External links
References
v - e - d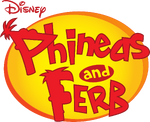 Episodes
Season One: "Rollercoaster" • "Candace Loses Her Head" • "The Fast and the Phineas" • "Lawn Gnome Beach Party of Terror" • "The Magnificent Few" • "S'Winter" • "Are You My Mummy?" • "Flop Starz" • "Raging Bully" • "Lights, Candace, Action!" • "Get That Bigfoot Outta My Face!" • "Tree to Get Ready" • "It's About Time!" • "Jerk De Soleil" • "Toy to the World" • "One Good Scare Ought to Do It!" • "A Hard Day's Knight" • "I, Brobot" • "Mom's Birthday" • "Journey to the Center of Candace" • "Run Away Runway" • "I Scream, You Scream" • "It's a Mud, Mud, Mud, Mud World" • "The Ballad of Badbeard" • "Dude, We're Getting the Band Back Together" • "Ready for the Bettys" • "The Flying Fishmonger" • "Phineas and Ferb Get Busted!" • "Greece Lightning" • "Leave the Busting to Us!" • "Crack That Whip" • "The Best Lazy Day Ever" • "Boyfriend From 27,000 B.C." • "Voyage to the Bottom of Buford" • "Put That Putter Away" • "Does This Duckbill Make Me Look Fat?" • "Traffic Cam Caper" • "Bowl-R-Ama Drama" • "The Monster of Phineas-n-Ferbenstein" • "Oil on Candace" • "Unfair Science Fair" • "Unfair Science Fair Redux (Another Story)" • "Out to Launch" • "Got Game?" • "Comet Kermillian" • "Out of Toon" • "Hail Doofania!"


Season Two: "The Lake Nose Monster" • "Interview With a Platypus" • "Tip of the Day" • "Attack of the 50 Foot Sister" • "Backyard Aquarium" • "Day of the Living Gelatin" • "Elementary My Dear Stacy" • "Don't Even Blink" • "Chez Platypus" • "Perry Lays an Egg" • "Gaming the System" • "The Chronicles of Meap" • "Thaddeus and Thor" • "De Plane! De Plane!" • "Let's Take a Quiz" • "At the Car Wash" • "Oh, There You Are, Perry" • "Swiss Family Phineas" • "Hide and Seek" • "That Sinking Feeling" • "The Baljeatles" • "Vanessassary Roughness" • "No More Bunny Business" • "Spa Day" • "Phineas and Ferb's Quantum Boogaloo" • "Phineas and Ferb Musical Cliptastic Countdown" • "Bubble Boys" • "Isabella and the Temple of Sap" • "Cheer Up Candace" • "Fireside Girl Jamboree" • "The Bully Code" • "Finding Mary McGuffin" • "Picture This" • "Nerdy Dancin'" • "What Do It Do?" • "Atlantis" • "Phineas and Ferb Christmas Vacation!" • "Just Passing Through" • "Candace's Big Day" • "I Was a Middle Aged Robot" • "Suddenly Suzy" • "Undercover Carl" • "Hip Hip Parade" • "Invasion of the Ferb Snatchers" • "Ain't No Kiddie Ride" • "Not Phineas and Ferb" • "Phineas and Ferb-Busters!" • "The Lizard Whisperer" • "Robot Rodeo" • "The Beak" • "She's the Mayor" • "The Lemonade Stand" • "Phineas and Ferb Hawaiian Vacation" • "Summer Belongs to You!" • "Nerds of a Feather" • "Wizard of Odd" • "We Call it Maze" • "Ladies and Gentlemen, Meet Max Modem!" • "The Secret of Success" • "The Doof Side of the Moon" • "Split Personality" • "Brain Drain" • "Rollercoaster: The Musical!" • "Make Play" • "Candace Gets Busted"
Season Three: "The Great Indoors" • "Canderemy" • "Run, Candace, Run" • "Last Train to Bustville" • "Phineas' Birthday Clip-O-Rama!" • "The Belly of the Beast" • "Moon Farm" • "Ask a Foolish Question" • "Misperceived Monotreme" • "Candace Disconnected" • "Magic Carpet Ride" • "Bad Hair Day" • "Meatloaf Surprise" • "Phineas and Ferb Interrupted" • "A Real Boy" • "Mommy Can You Hear Me?" • "Road Trip" • "Tour de Ferb" • "Skiddley Whiffers" • "My Fair Goalie" • "Bullseye!" • "That's the Spirit" • "The Curse of Candace" • "Escape from Phineas Tower" • "Lotsa Latkes" • "Ferb Latin" • "A Phineas and Ferb Family Christmas" • "Tri-Stone Area" • "Doof Dynasty" • "Excaliferb" • "Phineas and Ferb and the Temple of Juatchadoon" • "Monster from the Id" • "Gi-Ants" • "The Remains of the Platypus" • "Mom's in the House" • "Perry the Actorpus" • "Let's Bounce" • "Bully Bromance Break Up" • "Quietest Day Ever" • "Doonkleberry Imperative" • "Meapless in Seattle" • "Delivery of Destiny" • "Buford Confidential" • "The Mom Attractor" • "Cranius Maximus" • "Agent Doof" • "Minor Monogram" • "What a Croc!" • "Sleepwalk Surprise" • "Sci-Fi Pie Fly" • "Sipping with the Enemy" • "Tri-State Treasure: Boot of Secrets" • "Doofapus" • "Norm Unleashed" • "Where's Perry?" • "Ferb TV" • "When Worlds Collide" • "What'd I Miss?" • "Road to Danville" • "This is Your Backstory" • "Blackout!"
Season Four: "For Your Ice Only " • "Happy New Year!" • "Fly On the Wall" • "Bully Bust" • "My Sweet Ride" • "Der Kinderlumper" • "Sidetracked" • "Primal Perry" • "Mind Share" • "Backyard Hodge Podge" • "Bee Day" • "Bee Story" • "Great Balls of Water" • "Where's Pinky?" • "Phineas and Ferb Musical Cliptastic Countdown Hosted by Kelly Osbourne" • "Knot My Problem" • "Just Desserts" • "La Candace-Cabra" • "Happy Birthday, Isabella" • "Love at First Byte" • "One Good Turn" • "Mission Marvel" • "Thanks But No Thanks" • "Troy Story" • "Druselsteinoween" • "Terrifying Tri-State Trilogy of Terror" • "Face Your Fear" • "Cheers for Fears" • "Steampunx" • "Just Our Luck" • "Return Policy" • "Live and Let Drive" • "Phineas and Ferb Save Summer" • "Father's Day" • "Imperfect Storm" • "The Return of the Rogue Rabbit" • "It's No Picnic" • "The Klimpaloon Ultimatum" • "Operation Crumb Cake" • "Mandace" • "Phineas and Ferb: Star Wars" • "Lost in Danville" • "The Inator Method" • "Night of the Living Pharmacists" • "Tales from the Resistance: Back to the 2nd Dimension" • "Doof 101" • "Act Your Age" • "Last Day of Summer" • "O.W.C.A. Files"