SpectroMagic was a nighttime parade that was presented at the Magic Kingdom at Walt Disney World.
The Parade became a fan favorite with its music score, amazing effects and legendary characters.
On July 1st, 2013, Disney officials confirmed that all of the SpectroMagic units were destroyed due to poor storage conditions, henceforth the parade has been permanently retired.
Some small elements from the parade have been saved for possible future use. For example: the Sebastian audio-animatronic from the Little Mermaid unit is now being used in the Festival of Fantasy Parade.
The Story
The parade is about Mickey Mouse, along with the SpectroMagic Spectromen, who together create the power of SpectroMagic. After the first part of the Parade with Mickey Mouse and the SpectroMagic Spectromen, the parade then takes you though five different themes: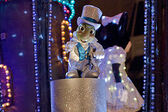 "The Worlds of Music from the Silly Symphonies"
"The Wonder of Sleeping Beauty's Garden"
"The Fantasy of the Little Mermaid's Ocean"
"The Imagination of Fantasia"
"And the World of Dreams in a Grand Disney Cavalcade"
History
Original Run: October 1, 1991- May 21, 1999
Secondary Run: April 2, 2001 - June 5, 2010
The Parade lineup consisted of 24 Units.
Throughout its 17-year run, the SpectroMagic Parade had various combinations of lineups. These ranged from different characters in different locations throughout the parade to whole units being in a different order.
Parade Units
SpectroMagic Trumpeters Units
SpectroMagic Whirly-Ball Unit (2)
SpectroMagic Whirly-Ball Unit (3)
SpectroMagic Whirly-Ball Unit (4)
SpectroMagic Title Unit
SpectroMagic Mickey Mouse's Unit
Silly Symphonies Unit
Sleeping Beauty's Garden Unit 1
Sleeping Beauty's Garden Unit 2
Sleeping Beauty's Garden Unit 3
Giant Fish Unit
School of Fish Unit
The Little Mermaid Unit
Whirly Fish Unit (Grey Color)
Whirly Fish Unit (Orange Color)
Fantasia Opening Unit
Bacchus Unit
Diana Unit
Chernabog Unit
First Finale Unit
Carousel Unit
Second Finale Unit