Space Adventure (Mickey Mouse Clubhouse episode)
Comments

0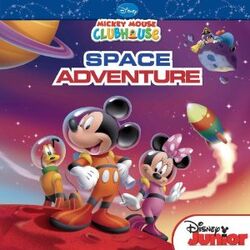 "Space Adventure" is the 11th episode from the third season of Mickey Mouse Clubhouse that originally aired on Disney Junior on September 12, 2011.
Plot
Mickey and his pals travel into space to search for intergalactic treasure.
Notes
Ludwig Von Drake announces the title of this episode after the opening sequence.
Unlike every episode in which the "Hot Dog Dance" at the end of the episode is done at the clubhouse, this one is done on Planet Mickey... with Martian Mickey delivering Earth Mickey's "thanks for stopping by" closing line. This is also the first time Quoodles joined the Hot Dog Dance without Drake joining in instead the ending looks a lot like in season two and the Alice In Wonderland special and the racing and train specials.
This episode was dedicated "in loving memory" to character designer Dana Landsberg, who died in 2009.
Quoodles debuted in this episode and is friends with Toodles in this episode.
Toodles has his face throughout the whole episode.
Ludwig Von Drake was the Mission Control for the Episode.
Guests
Gallery
See also