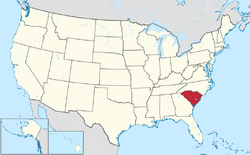 South Carolina
is a state in the Southeastern
United States
. It is bordered to the north by North Carolina; to the south and west by
Georgia
, located across the Savannah River; and to the east by the Atlantic Ocean. Originally part of the Province of Carolina, the Province of South Carolina was the first of the 13 colonies that declared independence from the British Crown during the American Revolution. The colony was originally named by King Charles II of England in honor of his father Charles I (Carolus being Latin for Charles). South Carolina was the first state to ratify the Articles of Confederation, the 8th state to ratify the US Constitution on May 23, 1788. South Carolina later became the first state to vote to secede from the Union which it did on December 20, 1860. It was readmitted to the United States on June 25, 1868.
South Carolina is the 40th most extensive and the 23rd most populous of the 50 United States. South Carolina comprises 46 counties. The capital and largest city of the state is Columbia.
Films and Shows
Attractions
Actors and crew born in South Carolina
Gallery
Ad blocker interference detected!
Wikia is a free-to-use site that makes money from advertising. We have a modified experience for viewers using ad blockers

Wikia is not accessible if you've made further modifications. Remove the custom ad blocker rule(s) and the page will load as expected.