"They call you Sour Bill for a reason!"
―Ralph, after tasting Sour Bill
Sour Bill is King Candy's diminutive minion, and the secondary antagonist in Disney's 2012 animated film Wreck-It Ralph.
Background
In the video game world of Sugar Rush, Sour Bill was programmed to serve as the assistant to Princess Vanellope von Schweetz. Shortly after the cabinet was first plugged in, however, Sugar Rush was hijacked by a deranged racer named Turbo, who sought to rule the game as a means to remain the most popular racer in the arcade. Sour Bill somehow became involved in Turbo's scheme and assisted him in entering the game's code room, where he tried to delete Vanellope's code, turning her into a glitch during his attempt. Turbo then locked away the memories of the game's inhabitants, including Sour Bill's, and manipulated the citizens into believing Vanellope was actually a glitch and a threat to their game because of it. Following these events, Sour Bill served Turbo under his new identity, King Candy. Candy's motives and true identity remained confidential from Sour Bill, but he was aware of the fact that Vanellope wasn't a glitch, and diligently worked alongside King Candy to prevent her from regaining her status as a real racer, while also hiding the truth from everyone in Sugar Rush.
Official Description
As King Candy's diminutive henchman, Sour Bill is often left to handle the stickier situations — but this long-faced little ball isn't exactly happy about his depressing duties.
Personality
Sour Bill, as his name suggests, is not exactly sweet. He's gloomy, speaks in a monotone, bored, and unenthusiastic manner, and it's only during intense moments that he's more expressive.
Sour Bill's state of morality is highly questionable. He was undoubtedly loyal to King Candy and, despite his apparent annoyance, was supportive of all his endeavors (specifically his ongoing mission to keep Vanellope from racing). He was also the only individual in the game to know Vanellope was a real racer, and that her inclusion in a race would not lead to the world's destruction. His reasonings for both assisting King Candy and keeping the latter's secrets confidential are unknown; whether it have been out of fear, malice, or some other form of motivation. Judging by his character, and the fact that he was quick to (unenthusiastically) praise Vanellope as sovereign once his memories were restored, it is heavily implied that Sour Bill will unabashedly condone acts of villainy or heroism, in relation to whom he serves.
An interesting note is that it was originally believed that Sour Bill was gloomy as a result of a strong disliking towards King Candy. However, this is not the case. Not only was he shown to be incredibly loyal to the King, albeit annoyed with some of his orders, Sour Bill continues to appear depressed even after Candy's death, as seen when he unenthusiastically announces Vanellope's royal status. This could possibly mean Sour Bill's gloomy attitude is merely part of his programming.
Physical Appearance
Sour Bill is a small, green candy ball that resembles a jawbreaker. He has large, round, green eyes characterized by their heavy lids and dark, baggy circles; this gives him a perpetually tired and worn look. His mouth is small and usually frowning. Bill has small, jellybean-like arms and legs that are detached and seem to float independently from his body.
Appearances
In the video game kingdom of Sugar Rush, Sour Bill is first introduced attending the daily Random Roster Race to cordially introduce King Candy, the host of the race's opening ceremony. After the racers deposited their coins, Sour Bill is asked by the king to identify a mysterious hooded figure depositing a coin. The figure is revealed to be Vanellope; a young girl who dreams of becoming a racer, but because she's a glitch, King Candy has strictly banned her from participating in the game. The king furiously orders his guards to capture her, but a taffy monster attacks the ceremony, distracting the guards and allowing Vanellope to escape. Once apprehended by the guards, the monster is taken to King Candy's castle. Sour Bill de-taffys the monster who is revealed to be the bad guy from the game Fix-It Felix, Jr., Wreck-It Ralph. Ralph claims that the coin Vanellope deposited was actually a medal he earned from the war game Hero's Duty and that he needs it back. The king, however, replies by explaining he's unable to return the medal as it was now in the game's codes; rendering it impossible to retrieve. Afterward, Ralph is ordered to leave Sugar Rush at once, as the king sets out to find Vanellope. As he does, Sour Bill silently departs, as well.
After learning Vanellope has built a kart with Ralph's assistance, King Candy and his goons try to arrest her and Ralph, but the duo manages to escape. The king orders Wynnchel and Duncan to find her, and returns to the castle as he does. There, Candy nervously paces about in the throne room as Sour Bill attempts to ease his nerves by fanning him with a lollipop. Soon enough, the donuts arrive and announce their failure. Knowing this could mean nothing but trouble, Sour Bill silently expresses his grief, before immediately following the king as the latter rushes into a hidden elevator. The elevator takes the duo to a hidden hallway leading to the game's codes. Inside, Candy is able to retrieve Ralph's medal and journeys out to find him. In his absence, Sour Bill is left in command. A little while after Candy's departure, Sour Bill is visited by Fix-It Felix Jr. himself and is asked if he has seen any sign of Ralph. Realizing the two obviously have some sort of association, Sour Bill quickly imprisons the handyman in order to prevent further trouble from outsiders.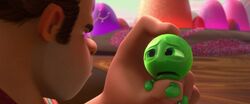 Later on, Sour Bill is out cleaning up the shattered remains of Vanellope's kart, just when he's confronted by Ralph. Ralph demands to know why Vanellope was on the game's cabinet despite the supposed fact that she's a glitch. Bill tries to flee but is unable to avoid Ralph's reach before he is caught. Ralph demands answers again, but Sour Bill refuses to cooperate. With no other choice, Ralph begins to lick Sour Bill, threatening to eat him. Horrified, Sour Bill finally confesses the truth and reveals Vanellope was once a racer until King Candy messed with her programming and tried to delete her code. When Ralph asks about the king's motives, Sour Bill is unable to answer as the memories of everyone in the game were locked up by the king. Bill then tells Ralph that if Vanellope crosses the finish line in an official race, the game would reset and she will no longer be a glitch. Ralph then demands to know her whereabouts, and Sour Bill reveals that she's been captured and thrown in the fungeon with Felix. Bill swears that's all he knows and tearfully begs for mercy, only to be spared and stuck onto a giant lollipop tree.
Afterward, Vanellope is freed from her prison, King Candy is defeated, and the former glitch crosses the finish line of the Random Roster Race, thus resetting the game and restoring the memories of all the inhabitants. Sour Bill then returns (having somehow escaped the lollipop tree, though it's still stuck to his backside) and rushes to Vanellope's side upon regaining his memory. The little sourball then declares Vanellope sovereign of the land; reforming and returning to his position as her adviser.
Sour Bill makes an appearance in the Disney Animated application that was released in 2013. Users are able to experiment with the animated process of "squash-and-stretch", which emphasizes the fluidity of an animated character to evoke broader emotion in the physical performance. Another template is available to turn Sour Bill into a simple beige-colored circle.
During Epcot's Food & Wine Festival of 2017, a figurine of Sour Bill was featured in a chocolate diorama display based on Wreck-It Ralph.
Aboard the Disney Dream cruise ship, Sour Bill is featured as an audio-animatronic in the candy shop cabana, Vanellope's Sweets and Treats. He can be found popping out of the center gumball gas tanks, where he resides and sleeps, giving comments and factoids in a dry, depressed, or aggravated tone.[1]
Gallery
Trivia
Sour Bill's voice actor, Rich Moore, was also the director of the film, and the voice of Zangief at Bad-Anon.
Originally, Sour Bill was meant to have a large black, biker-like hat and gloves.
His name is a play on sour ball.
With the film showing no signs of Sour Bill being a bumbler, Sour Bill proves to be one of the few competent Disney villain henchmen.
It is unknown how Sour Bill was aware of King Candy's crime of locking away the memories of the inhabitants, being that his memories were locked away as well. However, it is possible that King Candy had told him to prevent anyone else from becoming suspicious.
As seen in The Art of Wreck-It Ralph book, Sour Bill was originally meant to have limbs. Also, in some concept art, he was seen as a red candy ball as opposed to the green ball he is today.
When Sour Bill has the lollipop tree branch stuck to his head when Vanellope turns into a princess, he looks as if he's wearing a headdress worn by royal servants during the Renaissance (shown briefly in Aladdin).
The fact that his arms and feet are not attached to his main body could be a reference to Rayman.
When Ralph interrogates Sour Bill by trying to eat him, he tells him "How many licks does it take to get to your center?" This is a reference to the infamous Tootsie Roll Pops commercials featuring its owl mascot Mr. Owl.
Ralph also asks him, "What's going on with that candy-coated heart of darkness?", a reference to the Joseph Conrad novel Heart of Darkness.
After the scene in which King Candy enters the codes to retrieve Ralph's medal, he leaves Sour Bill in charge of the castle, proving that Sour Bill is the most powerful figure in Sugar Rush next to the ruler.
The green Uni Uni from Sonic Lost World look similar to Sour Bill, albeit without feet or hands.
In the German version of the movie, Sour Bill's name is "Sauerer Drops", which can be translated as "Sour Fruit Drops". Fruit Drops are small balls of candy with fruit flavouring. Based on this, Sour Bill is most likely a lime-flavoured sweet (limes are sour, hence his sour personality).
References