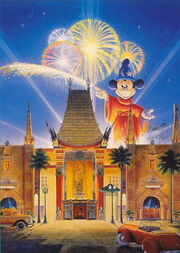 Sorcery in the Sky
was a nightly fireworks show that played at the Disney-MGM Studios (now
Disney's Hollywood Studios
) theme park. Taking place behind of
The Great Movie Ride
, it ran from 1990 to 1998, when the park's version of
Fantasmic!
debuted.
Synopsis
An announcer introduces the guests to the show and shouts "Light, camera, action!" to set the stage. At this point, the sounds of a flickering projector and silent-era piano music play, which then segues into various movie themes, including those from The Wizard of Oz, Singin' in the Rain, Mary Poppins, Star Wars and Raiders of the Lost Ark.
The announcer then tells the guests about one of Walt Disney's greatest film accomplishments: Fantasia. A medley of the various musical pieces from the film play before the grand finale, in which a giant inflatable Mickey Mouse in his "Sorcerer's Apprentice" garb emerges from the top of The Great Movie Ride and shoots sparks from its finger.
Trivia.
The show was originally narrated by Vincent Price, but the narration was removed after his death in 1993 and replaced with a deep-voiced announcer.
Ad blocker interference detected!
Wikia is a free-to-use site that makes money from advertising. We have a modified experience for viewers using ad blockers

Wikia is not accessible if you've made further modifications. Remove the custom ad blocker rule(s) and the page will load as expected.