Sofia the First: Once Upon a Princess
Comments

17
27,327pages on
this wiki
Sofia the First: Once Upon a Princess


Film information
Directed by:
Jamie Mitchell
Produced by:
Jamie Mitchell (executive producer)
Craig Gerber (co-executive producer)
Written by:
Craig Gerber
Music by:
John Kavanaugh (songwriter/music director)
Kevin Kliesch (composer)
Studio:
Walt Disney Studios
Release Date(s):
November 18, 2012
Running time:
48 minutes
Language:
English
Followed by:
"Just One of the Princes"
Sofia the First: Once Upon a Princess is an animated television movie that premiered on November 18, 2012 on Disney Junior. It was the pilot for the animated series that premiered on January 11, 2013 starring the titular protagonist Sofia, and Flora, Fauna and Merryweather from Disney's Sleeping Beauty.
Plot
When her mother marries the king, Sofia becomes a member of the royal family and moves into their grand palace. She attends a preparatory school under the tutelage of fairies Flora, Fauna and Merryweather in order to train for her new role as princess. With the help of a magic amulet that enables her to talk to animals and an appearance from Cinderella, Sofia adjusts to her new surroundings and tries to form a bond with her initially reluctanct step-sister Amber.
Music
As with many of the classic Disney movies, music plays an important role in Sofia the First: Once Upon A Princess and the Sofia the First series. The movie features five original songs ranging in musical styles from contemporary pop in songs like "Rise and Shine" and ballads like "Not Ready To Be A Princess" to those with more of a traditional classic Disney feature film/Broadway style like "Royal Prep" performed by Fauna, Flora, Merryweather, and the students; "True Sisters" performed by Sofia and Cinderella; and "A Little Bit of Food," a fun, upbeat song performed by Clover and his fellow animals that uncovers the mystery of why woodland creatures have been hanging around princesses for years.
Songs
Cast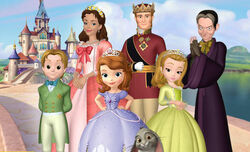 Quotes
Sofia: It's okay, Clover, tell me. (Gives Clover a big hug)
Clover: Whoa, whoa, whoa! You ever heard of personal space? Put me down!
Sofia: Oh, sorry. You're just so cute and cuddly, I couldn't help it.
Clover: Yeah, well, please help it.
---
Sofia and Amber finally connect as real friends and sisters.
Amber: I was just jealous because everyone likes you more than me. Even my own brother.
Sofia: That's not true. You're the most popular princess at Royal Prep. You have no idea how happy I was when I found out we were going to be stepsisters!
Amber: Sofia, we're sisters.
Screenshots
Storyboards
Trivia
Jennifer Hale, the voice of Cinderella, had to sing the song "True Sisters" due to Tami Tappan (Cinderella's singing voice) not being able to make the recording.
Reception
The special got the 5th most viewers for the week, with 5.151 million viewers, the highest for any Disney animated special since Phineas and Ferb Christmas Vacation! in 2009. It was #1 or #2 for several areas: Top cartoon, non-sports program, top 1 hour show, and top Disney show. It has the largest 2-5 crowd (1.5 million) since Atlantis Squarepants from 2007. It was also Kids 6-11 (1.6 million/6.7 rating), and was the #2 scripted cable TV telecast in Total Viewers (5.151 million). Notably, the movie became the #1 cable TV telecast in 5 years in preschoolers 2-5 and in 10 years in Girls 2-5 (954,000/12.2 rating). On IMDB, the special has a 6.3 rating from 225 users. It also had 1.4 million adults watching it.