Society of Explorers and Adventurers
Comments

0
30,037pages on
this wiki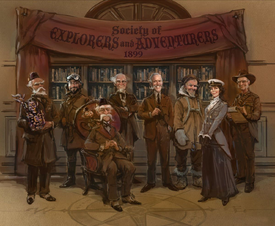 The Society of Explorers and Adventurers or S.E.A. is an organization in various attractions at the Disney theme parks, primarily in Tokyo DisneySea where the story originated and Hong Kong Disneyland's Mystic Point area. Consisting of scientists, explorers, researchers, travelers and adventurers from around the globe, S.E.A. is dedicated to the continued exploration of the world's oceans and exotic lands. Prominent members of the group in the late 1800s include Harrison Hightower III, Lord Henry Mystic, Barnabas T. Bullion and founding member Jason Chandler.
Appearances
Harrison Hightower III was a member of the Society of Explorers and Adventurers that often operated in corrupt and illegal methods in collecting artifacts. This would become his downfall when in 1899, his discovery of Shiriki Utundu in a remote African village, would lead to his demise and the closure of his home at Hotel Hightower. By openly disbelieving and scoffing at any notion of the idol's power, he angered the trickster god and disappeared on New Year's Eve that year. The hotel was re-opened to tours in 1912 by the New York Preservation Society, though Hightower's restless spirit still remains in the hotel, tormented by Shiriki Utundu.
Set at Henry Mystic's outpost in Mystic Point in 1909, Lord Henry Mystic established a home and meeting place for the Society in a remote rainforest in 1880 and opened parts of his home to the public as an art museum in 1896. Henry Mystic's pet monkey Albert ends up getting into trouble when he opens a recently acquired Balinese Music Box with the magical ability to bring inanimate objects to life.
Big Thunder Mining Company owner Barnabas T. Bullion is identified as a member of the Society in letters in the queue corresponding with Jason Chandler. Both he and a colleague at the Museum of the Weird, known as Madame Zasher, advise against further mining activity at the mountain in light of the various supernatural happenings plaguing the site.