Ad blocker interference detected!
Wikia is a free-to-use site that makes money from advertising. We have a modified experience for viewers using ad blockers

Wikia is not accessible if you've made further modifications. Remove the custom ad blocker rule(s) and the page will load as expected.
So They Say
 is a deleted song from Disney's
1951
animated feature,
Alice in Wonderland
that was meant to have been sung by
Alice
as she was on her way to see the
Mad Hatter
and the
March Hare
and also it was recorded on
July 18
,
1947
.
Lyrics
Alice:  The poor Hatter's very mad

So they say, so they say

He's indubitably mad, so they say

But why Hatters should be mad, dear 

Is a puzzle onto me, dear

But they are mad all agreed, dear

So they say

So they say, so they say, so they say

He is very mad in March

So they say, so they say

And he lives on soap and starch 

So they say

He is mad and so's the Hatter

But I do not mean to flatter

When I say it doesn't matter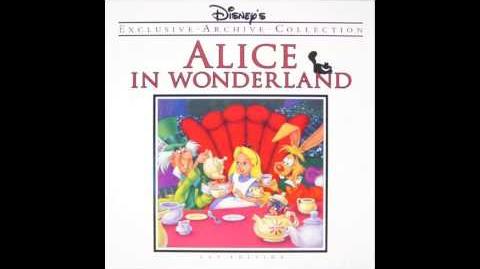 So they say, so they say, so they say