Ad blocker interference detected!
Wikia is a free-to-use site that makes money from advertising. We have a modified experience for viewers using ad blockers

Wikia is not accessible if you've made further modifications. Remove the custom ad blocker rule(s) and the page will load as expected.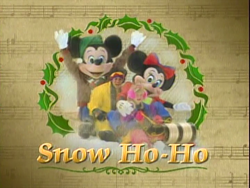 "Snow Ho-Ho" is a song from the Disney Records album The Twelve Days of Christmas and the VHS Disney Sing Along Songs: The Twelve Days of Christmas.
Lyrics
With our hats on our heads to keep out the chill
We will slide on our sleds down the side of the hill
What fun we'll have when the cold winds blow
In the Snow Ho Ho Ho Ho Ho Ho Ho Ho Ho Ho Ho Ho, In the Snow

When the cold weather comes and there's ice on the pond
We will glide we will slide through the trees and beyond
So take my hand and away we'll go
In the Snow Ho Ho Ho Ho Ho Ho Ho Ho Ho Ho Ho Ho, In the Snow

We'll throw snowballs, on a holiday for school
We'll build a snowman, and crown him Old King Cool
We'll go skiing, and fly down the hill
As fast as we can go
Look out below!
We'll land in a drift and catch the lift and ride up nice and slow

When the whole world is white like a beautiful dream
When snowflakes take flight and icicles gleam
Then come with me and away we'll go
In the Snow Ho Ho Ho Ho Ho Ho Ho Ho Ho Ho Ho Ho, In the Snow

When the cold weather comes and there's ice on the pond
We will glide we will slide through the trees and beyond
So take my hand and away we'll go
In the Snow Ho Ho Ho Ho Ho Ho Ho Ho Ho Ho Ho Ho
In the Snow Ho Ho Ho Ho Ho Ho Ho Ho Ho Ho Ho Ho
In the Snow Ho Ho Ho Ho Ho Ho Ho Ho Ho Ho Ho Ho
In the snow, snow, snow, snow, snow, In the Snow