Sneaky Patty is a minor character from Pickle and Peanut. She's a woman who hides in the bushes.
Physical Appearance
Sneaky Patty has hair tied in a ponytail, which goes from reddish to blue. She wears a gray sleeveless shirt, dark gray stockings and black boots. She also has her face covere by a purple balaclava.
v - e - d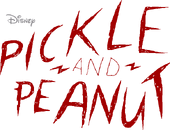 Songs
Pickle and Peanut Theme Song • How's Your Mom?