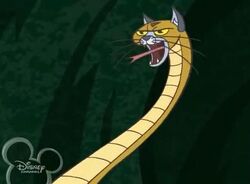 The Snake-Cat is a creature featured in the animated television show Kim Possible.
History
Snake-cat is a mutant cuddle buddies that are mixed of cats and snakes. These creatures have long bodies of snakes (huge long ones) and the head of a cat and it shows the snake body has scales and so does the cat head, but the cat has whiskers and it has a snake tongue. This was seen in Downhill. Kim Possible was in DNAmy's lair and a cat sees Kim, but Kim turns around and it shows the cat is a Snake-Cat. The Snake-Cat wraps Kim in his body to suffocate her, but Kim and the Snake-Cat both fell into the shelf of cuddle buddies and the Snake-Cat is knocked out or dead. The explosion probably killed the Snake-Cat with the Rabbit-Rhino and Pig-Man and Chicken-Man, but the plush of cuddle buddies have made it, but they fell in the snow.
Gallery
Ad blocker interference detected!
Wikia is a free-to-use site that makes money from advertising. We have a modified experience for viewers using ad blockers

Wikia is not accessible if you've made further modifications. Remove the custom ad blocker rule(s) and the page will load as expected.