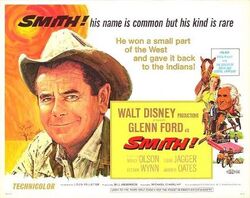 Smith!
is a
1969
Western Film, starring Glenn Ford and directed by Michael O'Herlihy.
Plot
Smith lives on a small ranch with Norah, his wife, and their 10-year-old son, Albie. Upon returning from a 3-day trip, Smith learns that Gabriel Jimmyboy, a young Indian suspected of murder, has taken refuge on his property in the shack belonging to Smith's Indian blood brother, Ol' Antoine. Smith, who believes that Jimmyboy is innocent and will get a fair trial, tries to persuade Antoine to turn in Jimmyboy and use the reward money to hire a good lawyer, but the young Indian does not believe Smith and sends him away. Albie and his Indian friend Peterpaul find Jimmyboy hiding in the woods, and they bring him food. They are forced to reveal Jimmyboy's whereabouts to Smith when they learn that Vince, the Indian-hating deputy sheriff and Eddie, his assistant, along with some tracking dogs, are on his trail. Smith and Albie rush to warn Jimmyboy, but Antoine has already turned him in to the sheriff and collected the reward. The Indian haying crew the Smiths are relying on to cut their hay arrive but only to say that they are leaving to attend Jimmyboy's trial. Smith goes, too, when he learns that Antoine is also in jail. Smith gets Antoine freed and replaces Walter Charlie, a conniving Indian, as interpreter at the trial. Antoine's testimony describing the injustices done to the Indians in the past impresses the judge and jury, and Jimmyboy is freed. After the trial, Smith returns home to cut the hay alone, but the Indians soon come to help, and Antoine, after many months of promise, begins breaking Albie's prize Appaloosa.
Cast
Glenn Ford as Smith
Nancy Olson as Norah Smith
Dean Jagger as Judge. Brown
Frank Ramírez as Gabriel Jimmyboy
Keenan Wynn as Vince Heber
Production Details
Directed by Michael O'Herlihy
Written by Louis Pelletier
Release date: March 21, 1969
Running time: 112 min
Gallery
Ad blocker interference detected!
Wikia is a free-to-use site that makes money from advertising. We have a modified experience for viewers using ad blockers

Wikia is not accessible if you've made further modifications. Remove the custom ad blocker rule(s) and the page will load as expected.