Ad blocker interference detected!
Wikia is a free-to-use site that makes money from advertising. We have a modified experience for viewers using ad blockers

Wikia is not accessible if you've made further modifications. Remove the custom ad blocker rule(s) and the page will load as expected.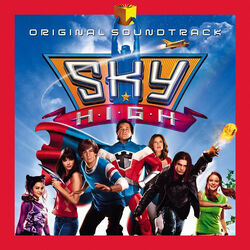 Sky High Original Soundtrack
is a soundtrack for the 2005 film
Sky High
. It was released on
July 26
,
2005
, and is composed of covers of songs from the 1980s.
Track listing
"I Melt with You" – Bowling for Soup. (Originally by: Modern English)
"Through Being Cool" – They Might Be Giants. (Originally by: Devo)
"Save It For Later" – Flashlight Brown. (Originally by: The Beat)
"Everybody Wants To Rule The World" – Christian Burns. (Originally by: Tears for Fears)
"One Thing Leads To Another" – Steven Strait. (Originally by: The Fixx)
"Lies" – The Click Five. (Originally by: Thompson Twins)
"Voices Carry" – Vitamin C. (Originally by: 'Til Tuesday)
"Please, Please, Please Let Me Get What I Want" – Elefant. (Originally by: The Smiths)
"True" – Cary Brothers. (Originally by: Spandau Ballet)
"Just What I Needed" – Caleigh Peters. (Originally by: The Cars)
"Can't Stop The World" – Ginger Sling. (Originally by: The Go-Go's)
"And She Was" – Keaton Simons. (Originally by: Talking Heads)
"Twist And Crawl" – Skindred. (Originally by: The Beat)
Details
Label: Hollywood
Copyright: (C) 2005 Hollywood Records, Inc.
Total Length: 46:28
ASIN: B0013L7242