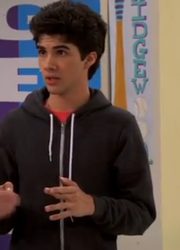 Skippy Ramirez aka The Masked Shredder
is a recurring character in
Liv & Maddie
. He is a professional skateboarder than now happens to go to
Ridgewood High
. Skippy is portrayed by Allen Alvarado.
Personality
To be added in.
Biography
Background
Skippy is a freshman and a skateboarding pro.
History
To be added.
Appearance
He has dark brown hair and brown eyes and wears slightly similar clothes to Joey Rooney.
Strengths and Weaknesses
Strengths
Skippy is good at skateboarding.
Weaknesses
He sometimes can be afraid of Diggie
Relationships
Friends
To be added in.
Trivia
He is a professional skateboarder.
Quotes
To be added in.
Gallery
Appearances
Skate-A-Rooney
Dodge-A-Rooney
Ad blocker interference detected!
Wikia is a free-to-use site that makes money from advertising. We have a modified experience for viewers using ad blockers

Wikia is not accessible if you've made further modifications. Remove the custom ad blocker rule(s) and the page will load as expected.