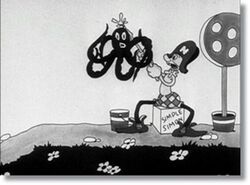 Simple Simon is the Mother Goose character who appeared in two of Disney's Silly Symphony shorts, Mother Goose Melodies and Old King Cole.
Appearances
In the short, Simple Simon is one of the storybook characters who come to life, climbing out of a "Mother Goose" book, to sing and to dance, to entertain Old King Cole.
Very much like Mother Goose Melodies, Simple Simon and the other storybook characters are tasked with entertaining Old King Cole, by singing and dancing, but this time in his ballroom. Instead of simply coming to life, the storybook characters climb out of Pandora's Box.
Gallery
Ad blocker interference detected!
Wikia is a free-to-use site that makes money from advertising. We have a modified experience for viewers using ad blockers

Wikia is not accessible if you've made further modifications. Remove the custom ad blocker rule(s) and the page will load as expected.