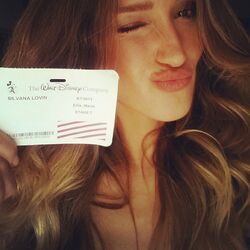 Silvana Lovin is a model who filmed a role for the film Muppets Most Wanted. She filmed her bit part on May 7, 2013.
According to The Age:
Travelling on a train, she plays the dice game craps with both of them Sean "Diddy" Combs and Pepe the King Prawn in the film, then dances with Pepe and ends up in a tussle with another girl while vying for the prawn's affections. "It was funny as we ended up tearing both his hands off in the scene. It was an amazing experience," she said.