Ad blocker interference detected!
Wikia is a free-to-use site that makes money from advertising. We have a modified experience for viewers using ad blockers

Wikia is not accessible if you've made further modifications. Remove the custom ad blocker rule(s) and the page will load as expected.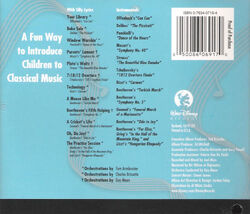 Silly Classical Songs is a 2001 Walt Disney Records album featuring 24 classical versions of funny songs.
Track listing
Your Library
Bake Sale
Window Warshin'
Parents' Lament
Pluto's Waltz
7:18: 12 Overture
Technology
A Mouse Like Me
Beethoven's Fifth Helping
A Cricket's Life
Oh, Da Joy!
The Practice Session
Can Can [Instrumental]
The Pizzicati [Instrumental]
Dance of the Hours [Instrumental]
Symphony No. 40 [Instrumental]
The Beautiful Blue Danube [Instrumental]
1812 Overture Finale [Instrumental]
Carmen [Instrumental]
Turkish March [Instrumental]
Symphony No. 5 [Instrumental]
Funeral March of a Marionette [Instrumental]
Ode to Joy [Instrumental]
Fur Elise/In the Hall of the Mountain King/Hungarian Rhapsody [Instrumental]