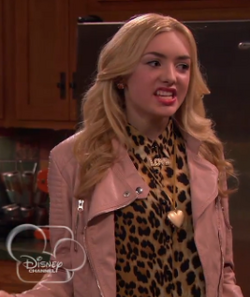 Sherri is a minor antagonist in I Didn't Do It and appears in the episode "Dance Fever". She is portrayed by Peyton List.
Biography
Season One
Sherri tries to ruin Lindy's perfect attendance record. She is supposedly the nicest girl in school, but she is really obsessed with being the only one who has perfect attendance, to the point of potential insanity and bordering on meglomania. She has ruined other students' perfect attendance.
Appearance
Sherri has blond hair and blue eyes.
Trivia
She tried to ruin Lindy's perfect attendance record and would even hurt Lindy to achieve this.
She greatly dislikes Lindy.
Ad blocker interference detected!
Wikia is a free-to-use site that makes money from advertising. We have a modified experience for viewers using ad blockers

Wikia is not accessible if you've made further modifications. Remove the custom ad blocker rule(s) and the page will load as expected.