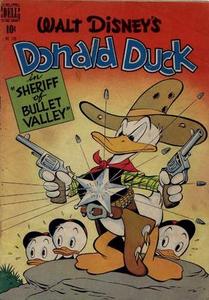 Sheriff of Bullet Valley is a Donald Duck comic story from October 1948, written and illustrated by Carl Barks.
Plot
In this story Donald applies for a job as the Sheriff of Bullet Valley and his nephews plan on helping him despite how dangerous he tells them it is. They investigate the mysterious cattle theft from the Diamond Brand Ranch and find out that the thief is none other than Blacksnake McSquirt.
It's a fight to the finish when Donald finally defeats Blacksnake.
This story is probably the longest western story that Carl Barks has ever written.
Donald quotes classical western movies throughout the story, as being his source of knowledge to guide his actions.
External links
| | |
| --- | --- |
| | This page uses content from the English Wikipedia. The article or pieces of the original article was at Sheriff of Bullet Valley. The list of authors can be seen in the page history. As with Disney Wiki, the text of Wikipedia is available under the GNU Free Documentation License. |
Ad blocker interference detected!
Wikia is a free-to-use site that makes money from advertising. We have a modified experience for viewers using ad blockers

Wikia is not accessible if you've made further modifications. Remove the custom ad blocker rule(s) and the page will load as expected.