Ad blocker interference detected!
Wikia is a free-to-use site that makes money from advertising. We have a modified experience for viewers using ad blockers

Wikia is not accessible if you've made further modifications. Remove the custom ad blocker rule(s) and the page will load as expected.
Sheriff Callie's Wild West (Original Title: "Oki's Oasis") Disney Junior television series that premiered on December 13, 2013 on Disney Junior the Channel starting with Horseshoe Peck as a preview and it officially premiered on January 20, 2014. Production began in October of 2011, with Mandy Moore, the singer/actress who played Rapunzel in the 2010 CGI film Tangled providing Callie's voice. It uses the legend of the Old West to impart social skills and lessons for young kids about being a good friend and neighbor, reinforcing what parents are already teaching their children at home about forgiveness, honesty and sharing. Callie is the sheriff of Nice and Friendly Corners, making sure the town upholds its reputation for being the friendliest town in the West. The series has 3 preview episodes in a unusual schedule with Disney/Pixar movies and Disney Junior series being shown all day from 6:30-9:30 on December 13, 2013.
For its first season, the series was a production of DHX Media. In its second season, the series became a production of Wild Canary Animation, with additional animation by DQ Entertainment. The second season features a brighter, crisper look to the animation as well as a new opening sequence.
On May 17, 2016, Holly Huckins confirmed in her Twitter account that the series will not be returning for a third season due to Mandy Moore's departure to be cast for another show.[1]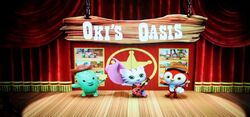 Series overview
Set in the colorful Wild West, Sheriff Callie's Wild West follows the titlular character and her deputy woodpecker, Peck, as they watch over their pleasant little frontier town. Although known as the friendliest town in the West, Callie and Peck work hard to keep it that way and when trouble comes a-callin', they make sure it doesn't stay long. By their side is her sweet-natured sidekick, Toby, a loveable cactus with a predisposition to see the good in everything and who is always ready to lend a helping hand. Each episode features two 11-minute stories and has two original songs.
Cast
References
External Links
v - e - d
Episodes
Season One: "Horseshoe Peck" | "Callie's Gold Nugget" | "Train Bandits" | "A Dirty Dusty Apology" | "Tricky Trouble" | "Toby's Untrue Achoo!" | "Stagecoach Stand-Ins" | "Gold Mine Mix-Up" | "The Pesky Kangaroo Rat" | "Cattle Overdrive" | "Sparky's Rival" | "Jail Crazy" | "Toby Gets Nosy" | "Peck Takes it Back" | "Sparky's Lucky Day" | "Peck's Bent Beak" | "Toby the Cow-sitter" | "Callie's Blue Jay Games" | "Peck's Darling Clementine" | "Lasso Come Home" | "Twist and Shout" | "Calamity Priscilla" | "King Stinky" | "Abigail's Extra Big Story" | "Horsefeathers" | "My Brother's Sleeper" | "Callie Asks for Help" | "Peck's Trail Mix Mix-Up" | "Priscilla's Lost Love Bird" | "Callie's Cowgirl Twirl" | "The Pie Thief" | "Fool for Gold" | "Peck and Toby's Big Yarn" | "My Fair Stinky" | "Parroting Pedro" | "Toby Gets the Scoop" | "Here Comes the Sun" | "Bug Trouble" | "Mustache Toby" | "Doc's Cheatin' Chili" | "The Prickly Pair" | "Crystal Cave Caper" | "Toby Braves the Bully" | "The Tumbling Tumblewood" | "Hike to Wish Mountain" | "Rhymin' Rodeo"


Season Two: "Boots or Consequences" | "The Good, the Bad and the Yo-Yo" | "Peck's Deputy Drill" | "A Fistful of Flowers" | "Quilting Time" | "When Dirty Turned Purty" | "A Barrel Full of Trouble" | "Peck Clowns Around" | "Toby's Christmas Critter" | "A Very Tricky Christmas" | "Bandit Toby" | "Barnstorming Bandit" | "Peck Gets Fooled" | "Doc's Runaway Balloon" | "Sparky Runs Wild" | "Milkshake Shakedown" | "Toby's First Snow" | "Blazing Skaters" | "The Long Adios" | "Fire Engine Fuss" | "Wrong Way Wagon Train" | "Peck and Toby's Tall Twirl" | "The Prize Fight" | "Buckle Hustle" | "Peck's Prisoner Promise" | "Toby's Two-Step Trouble" | "The Ballad of Sweet Strings" | "Lost Popcorn Cavern" | "Homestead Alone" | "Where's Our Wishing Well?" | "How the Water Was Won" | "Double Trouble" | "The Great Halloween Robbery" | "The Ghost of the Scary Prairie" | "Ella Sneaks a Peek" | "Tunnel O'Trouble" | "Stagecoach to Yonderville" | "The Wild Brunch" | "Callie's Got Trouble" | "Outlaw Roundup" | "New Sheriff in Town" | "Buzzard Bust-Out"