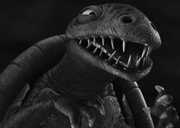 Shelley, also known as the Turtle Monster, is one of the villains in the 2012 film Frankenweenie.
She was actually Toshiaki's dead turtle, Shelley. When he digs up her corpse to use Victor Frankenstein's reanimation secrets on it, the experiment goes awry and the resurrected turtle grows to an extremely tremendous size. She is defeated and turned back to her original, dead state when she steps in an electrocuted puddle of beer.
Gallery
Trivia
The sounds made by the Turtle Monster are performed by Dee Bradley Baker, who also provided the voices of Mr. Whiskers and Colossus.
Turtle Monster's appearance is based on Gamera, a Japanese giant turtle kaiju similar to Godzilla.
Turtle Monster's name is based on the author's surname of Frankenstein, Mary Shelley.
Ad blocker interference detected!
Wikia is a free-to-use site that makes money from advertising. We have a modified experience for viewers using ad blockers

Wikia is not accessible if you've made further modifications. Remove the custom ad blocker rule(s) and the page will load as expected.