Shanghai Disneyland (Chinese: 上海迪士尼度假区) is a theme park located at Shanghai Disney Resort in Pudong, Shanghai, China. The park opened along with the rest of the resort on June 16, 2016. The sixth "Magic Kingdom"-style park, Shanghai Disneyland based on the hub-and-spoke design pioneered by the original Disneyland in California, though with some major differences.
Dedication
"To all who come to this happy place, welcome. Shanghai Disneyland is your land. Here you leave today and discover imaginative worlds of fantasy, romance and adventure that ignite the magical dreams within all of us. Shanghai Disneyland is authentically Disney and distinctly Chinese. It was created for everyone, bringing to life timeless characters and stories in a magical place that will be a source of joy, inspiration and memories for generations to come."
―Robert A. Iger, June 16, 2016
Layout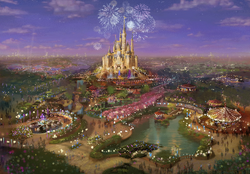 Shanghai Disneyland is a departure from other Disney parks. It does not feature a counterpart to Main Street, U.S.A, instead featuring an 11-acre greenbelt hub that is home to Enchanted Storybook Castle, the park's central icon. The park also lacks a railroad encircling it, as it would bring up unpleasant connotations of the Chinese immigrants who died building the First Transcontinental Railroad over Donner Pass.
Construction
The construction has already begun, and construction on a major road has begun in order to transport materials for the rest of the park. Major construction work is planned to start as early as May 2011, targeting a 2015 opening. The resort is planned to cover an area of four square kilometers (988 acres). It is expected to cost 25 billion RMB ($3.66 billion USD). The project will be financed by several large Chinese state-owned enterprises in Shanghai forming a joint venture with Walt Disney Company. The Oriental Land Company has not confirmed any connection to this venture with Disney on the Shanghai Disneyland project. "The first-phase of the project will be to the South of Huanglou Area, an area in Chuansha Town, the southeast suburbs of Shanghai's Pudong area; the second phase will extend farther southwest," an urban developer from Shanghai stated.
History
In 2005, it was rumored that the construction of a park known as "Shanghai Disneyland" would begin in 2008, and be completed in 2012. This was originally denied by Hong Kong International Theme Parks President Bill Ernest.
On December 5, 2007, the assessment agency reported that construction of "Shanghai Disneyland" would start after the Expo 2010 Shanghai China, with an investment amounting to 40 billion yuan.
On March 7, 2008, Ming Pao Daily News reported that Disney's first choice for construction was in Pudong, Shanghai.
November 1, 2009: While attending the 21st session of the International Business Leaders Advisory Council, Han Zheng, Mayor of Shanghai said, in response to the media's questions: "Shanghai Municipal Government will, in the near future, convene a special press conference to release the latest [information] and to answer your questions." Some people say that the "Shanghai Disneyland" project was approved in October 2009, but due to the low-key style of the Shanghai Municipal Government, and the need to fine-tune details between the two sides, as well as the need to change the four regulations, so subject to 100% to determine the rear will be publicly announced.
At 8:30 on November 4, 2009, an announcement, authorized by the Shanghai Municipal Government Press Office, was made: "Shanghai Disneyland project application report has been approved by the relevant state departments. Estimated total investment of 24.4 billion renminbi." Land near the proposed production site increased in value dramatically after the announcement was made.
January 18, 2011 A mainland government official today has confirmed that Shanghai Disneyland which is scheduled now to open in 2015 will be two to three times the size of Hong Kong Disneyland and will eventually contain three theme parks. Speculation is that these three theme parks will include parks based on Magic Kingdom, Epcot and Animal Kingdom.
April 7, 2011 Groundbreaking begins at the Shanghai Disney Resort site.
July 2015 first looks at the park in mock ups shown at the Shanghai Expo Center by Disney Chairman and CEO Bob Iger, reporting an expected opening of 2016.
Gallery