Seth Wiseman
Comments

0
24,135pages on
this wiki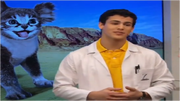 Seth Wiseman
(portrayed by an unknown actor) is a minor characters of
Disney Channel's Original Series
ANT Farm
.
Biography
He is a biologist or at least a zoo prodigy caring for studying animals his first appearance in trANTsferred.
Personality
Seth is know to be a vivid animal lover and has quite a large collection of animals in his care in the episode of "animal husbANTry" including a one of a kind talking duck, and alligator, a chicken, several parrots and a newly discovered species a Puppenoala as well as many more.
Episode Appearance
Season Three Episodes
trANTsferred
animal husbANTry
Trivia
He is shown to be quite attractive as Lexi.