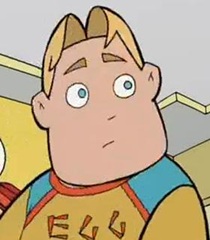 Seth Crissie (voiced by Shaun Fleming)[1] is an antagonist and one of the six guest characters of Fillmore! in the episode "Test of the Tested".
History
Seth was the one of stealing and cheated all the Satty-9 Test during the time pf investigation to recovered them[2]. Cornelius Fillmore and Ingrid Third trying to interview him but he has made clean exit.
Episode Appearances
References
Ad blocker interference detected!
Wikia is a free-to-use site that makes money from advertising. We have a modified experience for viewers using ad blockers

Wikia is not accessible if you've made further modifications. Remove the custom ad blocker rule(s) and the page will load as expected.