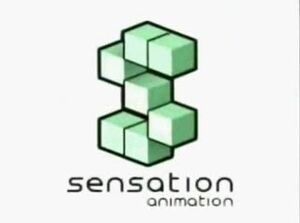 Sensation Animation was a subsidiary group of the Walt Disney Company, dedicated to ADR production and post-production services for anime.
Following Disney's purchase of Saban Entertainment in 2001, the company was renamed to BVS Entertainment and its french division splitting and becoming SIP Animation. Saban's two prime shows, Power Rangers and Digimon, continued to be produced. Power Rangers' production was moved to New Zealand and produced under BVS Entertainment, but the production of Digimon remained how it was under the same group of people who had worked on the show previously - except now, that group was named "Sensation Animation".
Following the completion of Digimon's fourth season in 2003, Disney lost the rights to dub the show, and therefore Sensation Animation dissolved, by all appearances having only ever existed in order to complete this task. The subsequent release of the four previously-undubbed Digimon movies in 2005 was handled by STUDIOPOLIS, Inc. The majority of the previous cast members returned sans some actors, like Joshua Seth.
Notable Shows
Digimon Tamers (Episodes 40-51)
Digimon Frontier