Ad blocker interference detected!
Wikia is a free-to-use site that makes money from advertising. We have a modified experience for viewers using ad blockers

Wikia is not accessible if you've made further modifications. Remove the custom ad blocker rule(s) and the page will load as expected.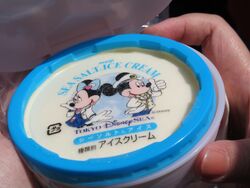 Sea-salt ice cream
is a type of ice cream found at
Tokyo Disneyland
. The ice cream's flavor mixes both a salty taste and a sweet taste. It is also a popular snack throughout the
Kingdom Hearts universe
.
Appearances
Disney Parks
Tokyo DisneySea, a smaller resort at Tokyo Disneyland, sells sea-salt ice cream. In an interview with Tetsuya Nomura, he explained that after tasting the ice cream at the resort, he was inspired to work with Disney and to have it put into Kingdom Hearts II.
Kingdom Hearts series
"We could always buy some sea-salt ice cream."
―Ansem the Wise
Sea-salt ice cream is a motif, often signifying friendship, that recurs throughout the series. It is a popular food in Radiant Garden and Twilight Town and is described as tasting salty but sweet. At the top of the clock tower, Roxas, Axel and Xion used to share sea-salt ice cream after completing their mission each day.
Gallery
| | |
| --- | --- |
| | This page uses content from the Kingdom Hearts Wiki The list of authors can be seen in the page revision history (view authors). As with DisneyWiki, the text of the Kingdom Hearts Wiki is available under the GNU Free Documentation License. |