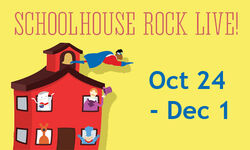 Schoolhouse Rock Live! is a musical adaptation of Schoolhouse Rock! developed in 2013 by the Nashville Children's Theatre Nashville, Tennessee.
The show ran from October 24 to December 1, 2013.
Description
For forty years, kids, teachers and parents have had fun learning with the songs of ABC's "Schoolhouse Rock!" Whether your favorite is "Conjunction Junction," "Interjections," or "Just A Bill," you will see it, hear it and ROCK OUT to it in NCT's all-new production of this delightful theatrical revue for the whole family. So, "Unpack Your Adjectives" and "Do the Circulation," because we're rockin' the schoolhouse with Schoolhouse Rock LIVE! Knowledge is power!
Gallery