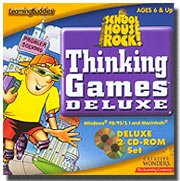 Schoolhouse Rock!: Thinking Games Deluxe is a Schoolhouse Rock! PC video game developed by Creative Wonders in 1998.
Description
Schoolhouse Rock Thinking Games Deluxe is a two-CD set containing ten games. These games are split into two sections. The First are called "Thinking Games" and are on the first CD. The Second set are "Learning Adventures" and are contained on the second CD.
The games can be played in any order, but it is recommended that players explore the "Thinking Games" before moving on to the "Learning Adventures", as the second set of games expand on the lessons in the first set.
Additionally, the "Thinking Games" are set up as arcade-style games, while the "Learning Adventures" are more open-ended.
Gallery
Ad blocker interference detected!
Wikia is a free-to-use site that makes money from advertising. We have a modified experience for viewers using ad blockers

Wikia is not accessible if you've made further modifications. Remove the custom ad blocker rule(s) and the page will load as expected.