Ad blocker interference detected!
Wikia is a free-to-use site that makes money from advertising. We have a modified experience for viewers using ad blockers

Wikia is not accessible if you've made further modifications. Remove the custom ad blocker rule(s) and the page will load as expected.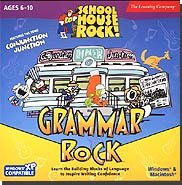 Schoolhouse Rock!: Grammar Rock is a Schoolhouse Rock! PC video game developed by Creative Wonders in 1995.
Description
Master the building blocks of the English language...through rock music! Play your favorite grammar rock tunes on the Schoolhouse Rock video jukebox. Then practice newly learned grammar skills by visiting nine learning centers. Building language skills has never been this much fun!
Features
Learn the Building Blocks of Language to Inspire Writing Confidence
Gain confidence in writing and speaking; Understand sentence structure
Learn to use the parts of speech: nouns, pronouns, adverbs, adjectives, verbs, prepositions
19 engaging activities that reinforce the lessons in the videos
Build Writing Skills. Mac OS 7.1 - 9.2 / OS X Classic mode, Windows 95/98/Me/XP
Gallery