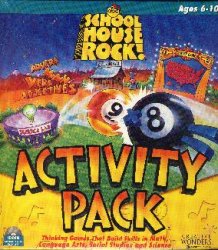 Schoolhouse Rock!: Activity Pack is a Schoolhouse Rock! PC video game developed by Creative Wonders in 1996.
Description
Build essential skills with the musical fun of Schoolhouse Rock.
Lucky Seven Sampson wants to make you a Super Star! Join Lucky to explore 12 activity combinations that teach important areas of elementary school curriculum. Earn coins with each challenge and progress down the road to fame!
Math - Fat Cat #9 challenges you to a game of equations in the Schoolhouse Rock game room Social Studies - Do you know your 50 states? A wacky quiz show teaches history and geography Language Arts - Classify nouns as a person, place or thing.. and paint a picture! Science - Can you decode secret messages? Manipulate light, lenses, and colors to find out!
Develop skills in:
Addition/Subtractions equations The Parts of Speech Vocabulary Geography US States Earth Science Energy The Solar System Special Features:
11 Hit Schoolhouse Rock Songs and Videos Over 50 printable games and activities Multiple skill levels Multi-player games Progress reports
For Windows (32-bit Systems) / Mac (Power Macintosh: OS 9 or Below) [*Please review compatibility/platform sections]