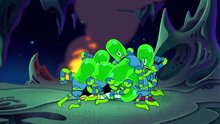 The Schmartians are characters in Wander Over Yonder.
Background
They are a race of aliens who are in the top 10 list of the Galactic Villain Board.
They were first seen in The Battle Royale fighting other villains for the Ring of Invincibility (which turned out to be a fake candy ring) as they were all defeated by Lord Dominator.
They appear again as cameos in My Fair Hatey as they were captured by Lord Dominator and later escaped.
They make cameos again in The Bad Neighbors as guests at Emperor Awesome's barbecue then later at Lord Hater's barbecue.
Appearances
v - e - d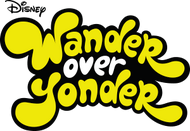 Organizations/Groups
Lord Hater's Army • Insurgent Generals • Wander and Sylvia • Bounty Hunters • Lord Dominator's Army • Galactic Villain Leaderboard
Locations
Lord Hater's Spaceship • Binglebopolopolis • Doomstone • Baaaaa-halla • Phunulon • Ballzeria • Buster • Doom Arena • Planet Ziziks • Flendar • Lord Dominatior's Spaceship • Arachnomorph Homeworld