Ad blocker interference detected!
Wikia is a free-to-use site that makes money from advertising. We have a modified experience for viewers using ad blockers

Wikia is not accessible if you've made further modifications. Remove the custom ad blocker rule(s) and the page will load as expected.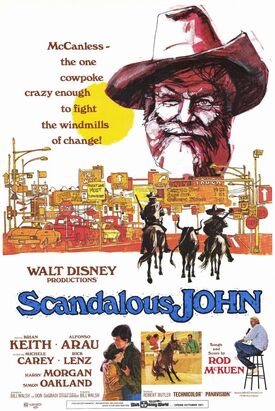 Scandalous John
is a
1971
wonderful, gentle, and old-fashioned Western film directed by Robert Butler.
Plot
The Old West is just not the same, what with so few cattle being run, and law-abiding folk running around like they own everything. In this family comedy drama, it's too much for John McCanless (Brian Keith). He is a modern rancher who has been so deeply affected by the death of his wife that he has retreated into a world of Wild West imagination. He is also a cranky former gunslinger who has no intention of selling his beloved acres to some fool who wants to build a dam and flood them all. Going "gently into that good night" is not in the cards at all, and this latter-day Quixote prepares to wage a lonely battle against the namby-pamby modern world. His ranch hand, Paco (Alfonso Arau), an illegal immigrant, and his bemused daughter, Amanda (Michele Carey) do what they can to help.
Cast
Brian Keith - John McCanless

Paul Koslo - Pipes

Rick Lenz - Jimmy Whittaker

Jimmy Lydon - Grotch

Larry D. Mann - Bartender

Margarito Mendoza - Mariachi Band

Simon Oakland - Barton Whittaker

Robert Padilla - Paco's Cousin

Jack Raine - Switchman

John Ritter - Wendell

Fran Ryan - Farm Woman

Bill Williams - Sheriff Hart

John Zaremba - Wales

Bill Zuckert - Abernathy

Alfonso Arau - Paco

Jose Nieto - Mariachi Band

William O'Connell - Men's Store Clerk

Lenore Stevens - Girl

Alex Tinne - Clerk

Harry Morgan - Pippin,Sheriff

Freddie Hernandez - Mariachi Band

Iris Adrian - Mavis

Ben Baker - Dr. Kropak

Michele Carey - Amanda McCanless

Booth Colman - Gov. Murray

Christopher Dark - Card Dealer

Sam Edwards - Bald head

Donald Elson -

Edward Faulkner - Hillary

Bruce Glover - Sludge

Richard Hale - Old Indian
Production Cast
Robert Butler - Director

Bill Walsh - Producer, Screenwriter

Tom Leetch - Producer

Chuck Keehne - Costume Designer

Cotton Warburton - Editor

Dean Thomas - Sound/Sound Designer

Don DaGradi - Screenwriter

Emile Kuri - Set Designer

Emily Sundby - Costume Designer

Frank Phillips - Cinematographer

Frank R. McKelvey - Set Designer

John Mansbridge - Art Director

Richard Gardner - Book Author

Robert Clatworthy - Production Designer

Robert J. Schiffer - Makeup

Robert Mattey - Special Effects

Robert O. Cook - Sound/Sound Designer

Rod McKuen - Songwriter, Composer (Music Score)

Ted Schilz - First Assistant Director
Gallery