Sashi Kobayashi is the deuteragonist of the Disney XD animated series Penn Zero: Part-Time Hero. She is Penn Zero's friend at school and a part-time sidekick, the toughest and smartest of the team and, according to Rippen, "the competent one". Unlike Penn and Boone's parents, her parents are not part-time heroes.
Background
Personality
Sashi is the most serious and intelligent of the three, and pays more attention than the others do. In every dimension she, Penn and Boone travel, it is her duty to describe their mission and what to expect in each world. She hates being mocked, yet some forms she takes are too humiliating for the others to take seriously (such as a clown or a cute fluffy stuffed animal). She is very aggressive, skilled at combat, and likely to threaten others no matter what side they are on. However, she does have enough faith in her friends, Penn especially, to be a trustworthy sidekick, and tries her best to be respectful to others as well. In "Flurgle Burgle", she is given credit for making a completed mission possible, and is congratulated with a cake that she is almost sickened by, but accepts as a reward.
Trivia
Gallery
v - e - d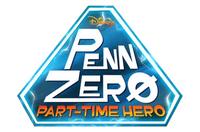 Locations
Middleburg • Middleburg Central High • The Odyssey • Fish Stick on a Stick • Knight World • North Pole • Superhero World • Arabian World • Plush Toy World • Chuckle City • Big Butte • Space World • Ocean World • Musical Fairy Tale World • Caveman Spy World • Alien World • Dragon Flight School • Plantywood • Most Dangerous World Imaginable • Least Dangerous World Imaginable
Objects
Multi-Universe Hologram Uplink • Multi-Universe Transprojector • Pigoilet • The QPC Unit • Vortex Tops • Specs
Ad blocker interference detected!
Wikia is a free-to-use site that makes money from advertising. We have a modified experience for viewers using ad blockers

Wikia is not accessible if you've made further modifications. Remove the custom ad blocker rule(s) and the page will load as expected.