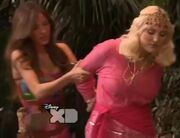 Sasha
is the ex-girlfriend of
Boz Parker
. She appeared in the episode "Heart and Troll".
History
Sasha is Boz's ex-girlfriend. She lies to him, telling him she is a queen. She goes to The Castle and pretends to get back together with him, in order to steal. She is caught, arrested by Mikayla and put behind bars. (Heart and Troll)
Appearances
Heart and Troll
Personality
Sasha is very deceptive, and could trick Boz easily. She is just a normal girl, a deceptive liar.
Ad blocker interference detected!
Wikia is a free-to-use site that makes money from advertising. We have a modified experience for viewers using ad blockers

Wikia is not accessible if you've made further modifications. Remove the custom ad blocker rule(s) and the page will load as expected.