Santa Claus
Background information
Feature films
See below
Short films
Television programs
See below
Video games
Park attractions
Portrayed by
See below
Portrayed by
Animators
Voice
See below
Performance model
Designer
Inspiration
Honors and awards
Character information
Full name
Other names
St. Nicholas, Jim, Sandy Claws, The Big Guy, Kris Kringle
Personality
Kind, nice, jolly
Appearance
Fat, white hair and long beard, red suit and cap, black boots
Occupation
Gift giver
Alignment
Affiliations
Alignment
Good
Goal
Giving out toys to good children
Home
The North Pole
Relatives
Mrs. Claus (wife)
Pets
Allies
Mrs. Claus, Mickey Mouse, Minnie Mouse, Donald Duck, Goofy, Pluto, Daisy Duck, Jiminy Cricket, Bonkers D. Bobcat, Lucky Piquel, Jack Skellington, Sally F. Skellington, Dr. Finkelstein, Mayor of Halloween Town, Lock, Shock, and Barrel, Wayne, Lanny, Magee, Noel, Brandy Harrington, Mr. Whiskers, Phineas Flynn and Ferb Fletcher, Candace Flynn, Sora, Penn Zero
Minions
Elves (among them: Wayne, Magee, Lanny, Noel, Bernard Blay'n, Clewn't), Reindeer
Enemies
Oogie Boogie, Evil Emperor Zurg, Mr. Whiskers (formerly), Maleficent, Chernabog, Pete, Disney Villains
Likes
Children's goodness, happiness, good behavior, love, sharing
Dislikes
Bad behavior, Jack ruining Christmas, Oogie Boogie's ex-minions' rude behaviors
Powers and abilities
Christmas magic
Weapons
Fate
Quote
"Ho, ho, ho!"
[Source]
Santa Claus is a traditional, secular figure of Christmas good cheer who is the best known (at least in modern times) mascot of Christmas, developed in the United States as an amalgam of the story of St. Nicholas and various other seasonal folk heroes, with many aspects provided by the classic poem "A Visit from St. Nicholas."
History
The Santa Claus myth is based largely on the Dutch holiday of "Sinterklaas" (a hastily pronounced "St. Nicholas", who comes down the chimney on the 5th/6 December) and the imagery of the Saint in question carried over to his North Pole incarnation. (Note that in several countries in Europe, Sinterklaas and Santa Claus are considered two entirely different characters, each with their own elaborate holiday.)
Santa is traditionally depicted as a festively overweight old man with a beard, who wears a red suit with white trim and a matching cap, black boots and a black belt. He lives at the North Pole in a large workshop staffed by elves which produces toys year round, and every Christmas Eve he sets out in a flying sleigh pulled by eight reindeer and delivers toys and other gifts to the children of the world out of the improbably large sack he carries with him, entering their houses by the chimney, filling their stockings, partaking of whatever food and drink the family left out for him, then leaving how he came in.
As the most prominent figure associated with Christmas, Santa Claus appears in many Christmas specials and movies, including several produced by Disney. His portrayal in them varies in many ways.
Appearances
Animated productions
Picture
Production(s)
Performer
Silly Symphonies
Allan Watson
In Santa's Workshop, Santa reads letters from children as he prepares for his big night. This same version of Santa was seen again the following year in The Night Before Christmas as he embarks upon a home filled with children.
TaleSpin
N/A
Santa was mentioned in the episode "Jolly Molly Christmas". Eventually, at the end of the episode, Molly Cunningham, and eventually the others, see him flying in the sky, though he is kept off-camera.
Darkwing Duck
Unknown
Santa Claus makes a cameo appearance at the end of "It's a Wonderful Leaf".
Bonkers
Hal Smith
In "Miracle at the 34th Precinct", while testing out in his new sleigh, Santa accidentally falls out and lands in Burbank, California, where he loses his memory and hangs out with Fall-Apart Rabbit, who nicknames him Jim.
The Nightmare Before Christmas
Edward Ivory

Main article: Santa Claus (The Nightmare Before Christmas)Santa is held captive by Oogie Boogie while Jack Skellington poses in his place. This version also appeared in Kingdom Hearts II.

The Shnookums and Meat Funny Cartoon Show
Daran Norris
Santa appeared in the short "Jingle Bells, Something Smells".
Recess
James Earl Jones
Santa Claus appears in the episode "Yes, Mikey, Santa Does Shave". Unlike in the other specials, the real Santa is depicted here as an African-American man with a cleanly-shaven beard.
Buzz Lightyear of Star Command
Earl Boen
Santa appears in the episode Holiday Time. He operates out of the planet North Polaris, where utilizing an interstellar sleigh and a time-manipulation device, delivers presents to all the planets within the Galactic Alliance. However, Emperor Zurg manages to steal the time-manipulation device and seeks to use it to ruin the holiday for everyone. Santa enlists the help of Buzz and his crew, though Buzz doubts that Santa is the real deal.
House of Mouse
Corey Burton
The version of Santa from the Silly Symphonies shorts made a guest appearance on House of Mouse in the episode "Clarabelle's Christmas List".

Higglytown Heroes
John Astin
Santa appears in "Twinkle's Wish".
Mickey's Twice Upon A Christmas.
Chuck McCann
Santa Claus physically appears in the segments "Christmas Impossible" and "Mickey's Dog-Gone Christmas"
Brandy & Mr. Whiskers
In "On Whiskers, On Lola, On Cheryl and Meryl", Santa is accidentally injured by Mr. Whiskers and forced to rest in the jungle while Brandy, Mr. Whiskers and their close friends travel over the world and deliver the gifts instead.


American Dragon: Jake Long
John Goodman
Santa is one of the judges in Eli Panderas' Miss Mystical World pageant in "Eye of the Beholder". He appears again in "Hairy Christmas", in the mall with Jake. He was also mentioned in "The Hong Kong Longs", by Johnathan on his, Susan, Hayley, Spud, Trixie and Fu while he was asking Fu if mystical creatures are real, even Santa.
Mickey Mouse Clubhouse
Dee Bradley Baker
Santa made his first appearance in this series in "Mickey Saves Santa", in which Mrs. Claus, Mickey and Donald, journey off to Mistletoe Mountain to rescue a stranded Santa. He became an occasional recurring character and played a surprise role in "Mickey's Choo-Choo Express".
My Friends Tigger & Pooh: Super Sleuth Christmas Movie
Jeffrey Tambor


Phineas and Ferb
Dan Povenmire ("I, Brobot")
Clancy Brown (Phineas and Ferb Christmas Vacation!)
In "I, Brobot", during a "summer run", Santa made use of the Chimney Vator, one of the many systems the O.W.C.A. has in place to transport its agents to and from their lairs around the world. During the ride, he met Agent P. Santa saved Agent P later in the day by catching the electromagnet on his sleigh that Dr. Doofenshmirtz had released from a crane, intending to crush Agent P. For this "summer run", Santa did not require the full complement of reindeer to pull the sleigh.

In Phineas and Ferb Christmas Vacation!, Phineas and friends finish delivering gifts across Danville and find the sauna being used in the rest stop for Santa that Phineas and Ferb built atop the Flynn-Fletcher house. Santa chuckled, seemingly expecting for all of this to happen. He also reads Phineas' letter, saying all Phineas wished for was to be like him. Santa is also Phineas' greatest hero, delivering gifts to everyone in one night, something even he possibly couldn't do. He then takes Phineas' gift with him, thanks the kids for doing Danville for him then leaves. The next morning, Phineas and friends find gifts under their trees, all from Santa ("Phineas and Ferb Christmas Vacation!").

In "Wizard of Odd", Santa is seen walking the The Yellow Sidewalk with aliens, Abraham Lincoln, and Sergei Kushnarov while Isabella (the good witch) was wanting them to take the sidewalk.

The Replacements
Daran Norris
In "Dick Daring's All-Star Holiday Stunt Spectacular V", Santa appears in a sketch where Todd tries to replace him with different types of Santa.
Prep & Landing series
W. Morgan Sheppard
The Prep & Landing specials revolve around a special group of elves that prepare the homes that Santa, codenamed the "Big Guy", visits during the Christmas Eve night. His face is never fully shown onscreen, except from a distance in a few shots in Operation: Secret Santa.
Doc McStuffins
Live-action productions
Characters dressing as Santa Claus
Gallery
External links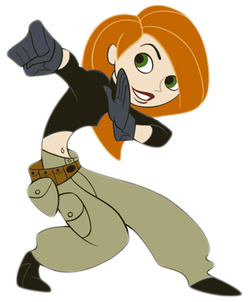 Media: Kim Possible | (Episode list) | Kim Possible: A Sitch in Time | Kim Possible Movie: So the Drama | Kim Possible: What's the Switch? | Kim Possible: Kimmunicator | Kim Possible: Revenge of Monkey Fist | Kim Possible 2: Drakken's Demise | Kim Possible 3: Team Possible | Kim Possible: Global Gemini | Lilo and Stitch: The Series | Phineas and Ferb
Disney Parks: Kim Possible World Showcase Adventure
Characters: Kim Possible | Ron Stoppable | Rufus | Wade | Dr. Ann Possible | Dr. James Possible | Jim and Tim Possible | Mr. Stoppable | Mrs. Stoppable | Hana Stoppable | Monique | Steve Barkin | Bonnie Rockwaller | Ned | Nana Possible | Team Go | Martin Smarty | Artie Smarty | Team Impossible | Betty Director | Cousin Larry | Vivian Francis Porter | Felix Renton | Zita Flores | Master Sensei | Yori | Slim Possible | Joss Possible | Yono | Mego | Hego | Wego Twins | Steel Toe | Pain King | Professor Acari | Connie Rockwaller | Lonnie Rockwaller | Mrs. Rockwaller | Tara | Jessica | Hope | Marcella | Liz | Crystal | Franklin Barkin | Wayne | Shaun | Reuben Stoppable | Vinnie | Big Mike | Mr. McHenry | Junior | Prince Wally | Wanda Wong | Toshimiru | Alan Platt | Akute | Officer Hobble | Amelia | Pop Pop Porter | Kyoko Yoshiko | Nakasumi-San | Timothy North | Middleton High School Cheerleaders | Will Du | Cyrus Bortel | Oh Boyz | Roachie
Villians: Dr. Drakken | Shego | Monkey Fist | Duff Killigan | Señor Senior, Senior | Señor Senior, Junior | Amy Hall | Gil Moss | Camille Leon | Frugal Lucre | Bebe | Adrena Lynn | Gemini | Professor Dementor | Fashionistas | Warmonga | Warhok | Edward Lipsky | Falsetto Jones | Nanny Maim | Hank Perkins | Stone Gorilla | Jackie the Jackal | Aviarius | Fukushima | Knights of Rodegan
Objects: Sadie | Neuro-Compliance Chip | Lotus Blade | Kimmunicator | Silver Cutlass | The Attitudinator | Amulet of the Monkey King | Molecular Muscle Enhancer | Naco | Diablo Sauce | Giant Laser Drill | Pop Pop's Mini Corn Dogs | Pop Pop's Blimp
Locations: Middleton | Middleton High School | Middleton Mall | Bueno Nacho | Smarty Mart | Possible House | Club Banana | Middleton Space Center | Middleton Medical Center | Camp Wannaweep | Yamanouchi Ninja School | Forbidden City Museum | Pickle on a Pike | Middleton Institute of Science and Technology | Middleton Magnetic Institute | Middleton Geological Center | Middleton Motor Lodge | University of Upperton | Canada | Tokyo | Japan | Port Mystic Cove Haven
Songs: Call Me, Beep Me! | Could it Be | Rappin' Drakken | Naked Mole Rap | Say The Word | Pop Pop's Mini Corn Dogs (song)