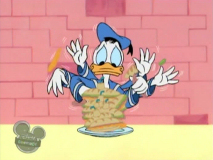 Sandwich Makers is a short starring Mickey Mouse, Donald Duck and Goofy, originally featured in the seventh episode of Mickey Mouse Works.
Plot
Goofy is swept away with power when he becomes the captain of a submarine sandwich shop, but he soon learns that cooperation and friendship are essential for running a tight ship.
Ad blocker interference detected!
Wikia is a free-to-use site that makes money from advertising. We have a modified experience for viewers using ad blockers

Wikia is not accessible if you've made further modifications. Remove the custom ad blocker rule(s) and the page will load as expected.