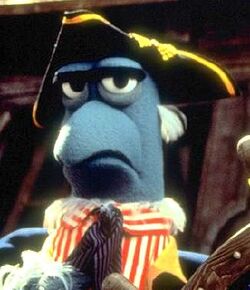 Samuel Arrow is the first mate to Captain Abraham Smollett in Muppet Treasure Island. In contrast to the character as portrayed in the original Treasure Island, where the first mate is a drunken lout, Mr. Arrow is pompous, efficient, and highly safety-oriented. Though he shares the captain's distrust of (and disgust with) the Crew of the Hispaniola, Mr. Arrow performs his duties well. His efficiency nearly becomes his downfall, when Long John Silver lures him into a lifeboat, on the pretense of a safety check, and then sets him adrift. Arrow's unexpected return helps turn the tide in the battle against the pirates.
The character was later adapted as an action figure, the first of several Muppet Treasure Island figures released by Palisades Toys.
Gallery
| | |
| --- | --- |
| | This page uses Creative Commons Licensed content from Muppet Wiki. The list of authors can be seen in the page revision history (view authors). As with Disney Wiki, the text of Muppet Wiki is available under the CC-by-SA Free Documentation License. |
Ad blocker interference detected!
Wikia is a free-to-use site that makes money from advertising. We have a modified experience for viewers using ad blockers

Wikia is not accessible if you've made further modifications. Remove the custom ad blocker rule(s) and the page will load as expected.