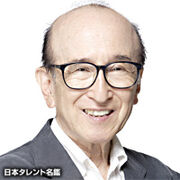 Ryūji Saikachi
(槐柳二 Saikachi Ryūji, born March 27, 1928 in Tokyo) is a Japanese actor and voice actor. most known for the roles of Prof. Pat Pending (Wacky Races, Japanese dub), Rerere no Ojisan (Tensai Bakabon), and Grandfather Otonashi (Maison Ikkoku).
Dubbing Roles
Ad blocker interference detected!
Wikia is a free-to-use site that makes money from advertising. We have a modified experience for viewers using ad blockers

Wikia is not accessible if you've made further modifications. Remove the custom ad blocker rule(s) and the page will load as expected.