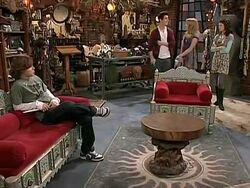 The Russo Lair is a secretive magical room that replaces the closet inside the kitchen of Waverly's Substation whenever the Russos want to go there. It is from Disney's TV show, Wizards of Waverly Place.
Usage
It is where Jerry teaches Jerry teaches Justin, Alex and Max wizardry. Through the portal, they can go visit the wizard world. Wizards can also visit the Russos via teleportation.
v - e - d
Objects
Alex's Wand • Justin's Wand • Max's Wand • Russo Portal
Ad blocker interference detected!
Wikia is a free-to-use site that makes money from advertising. We have a modified experience for viewers using ad blockers

Wikia is not accessible if you've made further modifications. Remove the custom ad blocker rule(s) and the page will load as expected.