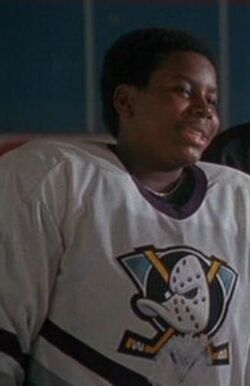 Russ Tyler (portrayed by Kenan Thompson) is a hockey player who plays at the Defencemen Position and wears number 56. Tyler was part of the Team USA in the Goodwill Games in the film D2: The Mighty Ducks. He is a local boy from Los Angeles who teaches the team how to play "for real" following a major upset against Team Iceland in D2. He is recruited into the roster following Adam Banks' wrist injury. Russ fashions his trademark "knucklepuck", a slapshot that curves in a sine curve rather than a direct, straight shot, and is very loquacious. He later attended Eden Hall Academy, as seen in D3: The Mighty Ducks.
Quotes
Ad blocker interference detected!
Wikia is a free-to-use site that makes money from advertising. We have a modified experience for viewers using ad blockers

Wikia is not accessible if you've made further modifications. Remove the custom ad blocker rule(s) and the page will load as expected.