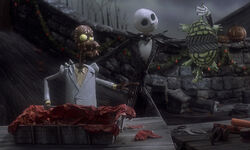 Run-Over Turtle 
is an object from the
1993
film
The Nightmare Before Christmas
. As its name says, it's a dead turtle with a tire track across its shell.
Usage
It is possibly used for scaring children along with the other haunted christmas gifts.
Appearances
The Run-Over Turtle is created by the Melting Guy while the other residents of Halloween Town are making scary Christmas gifts. However, Jack Skellington claims this toy was wrong.
Gallery
Merchandise
Ad blocker interference detected!
Wikia is a free-to-use site that makes money from advertising. We have a modified experience for viewers using ad blockers

Wikia is not accessible if you've made further modifications. Remove the custom ad blocker rule(s) and the page will load as expected.