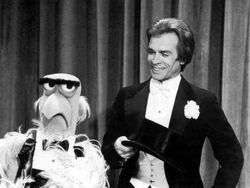 Rudolf Nureyev (March 17, 1938 – January 6, 1993) was a Russian-born ballet dancer and actor. He may not had any Disney roles, but he made a guest appearance in episode 213 of The Muppet Show. It's no strange coincidence, however, that he shared the death date with another Muppet Show guest star, Dizzy Gillespie.
Gallery
Ad blocker interference detected!
Wikia is a free-to-use site that makes money from advertising. We have a modified experience for viewers using ad blockers

Wikia is not accessible if you've made further modifications. Remove the custom ad blocker rule(s) and the page will load as expected.