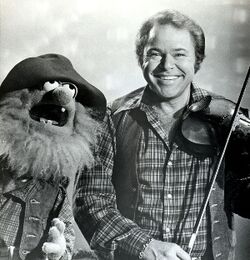 Roy Clark (born April 15, 1933) is a country singer and musician best known as co-host of the TV series Hee Haw.
Some of his Disney roles include Branson Performer in Gordy and himself in episode 303 of The Muppet Show, the TV special Disneyland's 30th Anniversary Celebration and the Walt Disney episode "EPCOT Center: The Grand Opening".
Gallery
Ad blocker interference detected!
Wikia is a free-to-use site that makes money from advertising. We have a modified experience for viewers using ad blockers

Wikia is not accessible if you've made further modifications. Remove the custom ad blocker rule(s) and the page will load as expected.