The Roxxon Corporation is, as its name suggests, a large and powerful corporation from Marvel Comics. Their amoral and corrupt business practices makes them fulfill the role of villain sometimes, while other times they are neutral.
Its main product and source of revenue is oil and other energy sources, though they are also involved in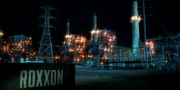 cybernetics, robotics, and interdimensional travel.
In Agents of S.H.I.E.L.D., a Roxxon gas station was destroyed by Tobias Ford. Roxxon provided Centipede with the cybernetics required for Project Deathlok. Melinda May and Skye later arrested the Roxxon executives and employees who allied themselves with Centipede.
In Agent Carter, Roxxon employee Miles Van Eart allied himself with Leviathan to create the Nitramene chemical, which was being created in a Roxxon oil refinery. After said refinery was destroyed in an explosion, the then president of Roxxon, Hugh Jones, apologized on Roxxon's behalf, and Miles Van Ert was arrested. However, Hugh Jones was later revealed to be part of the Council of Nine. Later, Peggy Carter had to infiltrate Roxxon's Los Angeles branch to find some atomic bombs, and later Peggy infiltrated the building alongside Edwin Jarvis in order to steal rods from two atomic bombs before Madame Masque could do it.
In Daredevil, Matt Murdock and Foggy Nelson once worked as lawyers for a man who was suing Roxxon for having developed cancer while working at a Roxxon plant. Later, Elektra Natchios broke into the Roxxon systems to gain information, and it was later revealed that Roxxon had allied themselves with the Hand .
In Iron Man 3, a Roxxon oil tanker was responsible for an oil spill, and Aldrich Killian and Trevor Slattery collaborated to murder several politicians because said politicians were never held accountable for the oil spill.
In Avengers Assemble, Roxxon gave Melissa Gold cybernetic equipment that she used to first become the supervillain Screaming Mimi, and later the superheroine Songbird.
In Cloak and Dagger, Roxxon is responsable for giving Tandy Bowen and Tyrone Johnson their superpowers, which Tandy and Tyrone use to become the superheroes Cloak and Dagger.